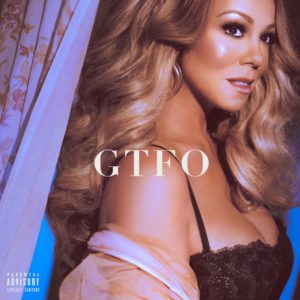 Global superstar, Mariah Carey just announced her new song "GTFO" and her new single "With You" coming out in early October. Both tracks are from her new studio album later this year. "GTFO" is available now here via Epic Records!
GTFO
The new song gives fans a taste of her upcoming album, especially with the release of her single, "With You," on October 5. This will be the multi-platinum award winning artists 15th studio album, her first since 2014. "GTFO is produced by Grammy nominated Nineteen85, who has worked with world known artists such as Drake and Jordan Manswell. The new single is an early treat for her fans with atmospheric beats abound on the track. The sultry track  is the first serving of new music from the acclaimed singer/songwriter/producer sine inking an exclusive partnership with her imprint Butterfly MC Records and Epic in the spring of 2017. Mariah also released the music video for her new song, which was directed by Sarah McColgan. Her official kickoff single to her album, "With You," will arrive shortly, seductively setting the stage for her eagerly anticipated music coming later in 2018.
Vegas Residency & Album
The announcement of the new songs, coming on the heels of her much-heralded Las Vegas Residency, 'The Butterfly Returns.' This marks the impassioned return of one of the most revered and identifiable voices in pop history. She's also putting the finishing touches on her forthcoming album. The flurry of creative activity has turned up the buzz with her enormous social media following, heightening the unbreakable rapport between the personable star and her avid fan base,'lambily.' "I wanted to give my fans and everyone a first listen that wasn't so serious," says Mariah. "I've had so much fun making this album, and I wanted the first moment to reflect that light-hearted spirit."
Mariah's enthusiasm extends to her recent live endeavors. The multitalented star finished up her Caesar's Palace residency on September 10 to rave reviews. She will be performing at the eighth annual iHeartRadio Music Festival at Las Vegas' T-Mobile Arena on September 21. A range of unique promotional ventures are in the works for fall, surrounding the October 5 "With You" release and subsequent video, with more surprises in store for fans to close out the year. Mariah has also announced plans to continue 'The Butterfly Returns' headlining show at the Colosseum in Caesars Palace in February of 2019.
Exhibiting a transcendent vocal ability, irrepressible staying power and unparalleled body of work that only a handful of artists in the modern era have achieved, Mariah Carey is poised to deliver via Epic Records/Butterfly MC Records one of the most accomplished albums of her incredible career.
___________________________________________________________________________________________________________