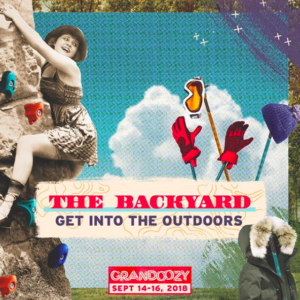 Grandoozy, Denver's first ever, three-day, multi-format festival from Superfly, the co-creators of Bonnaroo and Outside Lands, debuts, announces The Backyard. Guests will be able to take party in an experience celebrating Colorado's heritage of outdoor sports and lifestyle.  A destination within the festival, The Backyard will offer fans adventurous activities, engaging panels and immersive brand showcases. Grandoozy created this unique and personal experience to present attendees with the opportunity to engage with industry leaders and passionate athletes through real in-depth conversations. The Backyard introduces eight groundbreaking lifestyle brands for both adventure travelers and outdoor enthusiasts. To wrap it all up, The Backyard includes yoga sessions to engage in an intense and mindful form of fitness to start out your mornings prior to or in between catching musical performances. Grandoozy will take place in Denver's Overland Park September 14-16, 2018.
Backyard Chats
This exciting speaker series moderated by Huckberry will feature three separate panels taking place daily at 2:30pm in Grandoozy's 80's Ski Lodge.
Friday's panel will focus on authentic conversations surrounding conservation, activism and passion for the great outdoors. Throughout the day, discussions will be based upon climate change, the current positions on environmental policy and how national parks and lands are undeniably in danger. Join panelists and conservation experts Amy Roberts, Mario Molina, and Jon Miller to converse the challenges, implications and opportunities our country faces ensuring conservation.
The Saturday panel features business as activism and how the outdoor industry is becoming a political force. Activists Alexander Boian, Annelise Lovelie and Christian Knapp, are taking charge and making a difference to increase outdoor participation. They will focus on sustainable business innovation, and connecting with nature and oneself.
Concluding the weekend series, Sunday's panel explores immersing yourself in the rawness of outdoor living. Well known athletes discuss how being outside impacted their lives, including health benefits that improve their well-being. From Olympic to professional athletes, join Bobby Brown, Gretchen Bleilerand more to hear about their love for the great outdoors.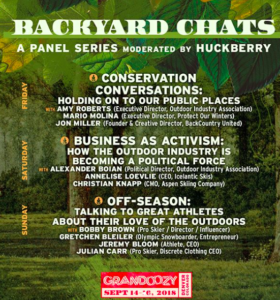 The Backyard Marketplace
Experience your favorite outdoor lifestyle brands with Grandoozy's one-of-a-kind curated marketplace. Check out some innovative companies that are reducing our environmental footprint by creating products that are eco-friendly. These innovations support organizations that protect our earth while providing high-quality merchandise. Curated by Sam Warren, founder and creator of Icelantic's Winter on the Rocks, fans can check out Eno, Zeal Optics, Klean Kanteen, plus many more. Eno is an ingeniously crafted parachute hammock designed to be the most comfortable in the world. Zeal optics is a company that uses plant-based materials in all their sunglass frames. Last, but not least, Klean Kanteen is the maker of revolutionary stainless-steel BPA reusable products.The Backyard will feature limited-edition items from all of these unique brands which are committed to making a global impact and serving the public at the same time.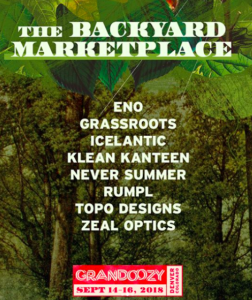 Yoga
Begin your day rejuvenated with an intense workout rooted in the mindfulness of yoga. With encouraging certified instructors, you will push physical boundaries with an open mind and a beating heart. Discover your most powerful self every day at 2:15pm at The Break Room within Grandoozy. Catch a class with the likes of Sunny Trails Presents on Friday, September 14th and Corepower Yoga on Saturday, September 15th and Sunday, September 16th to start your day of dancing, dining and drinking with a yoga flow.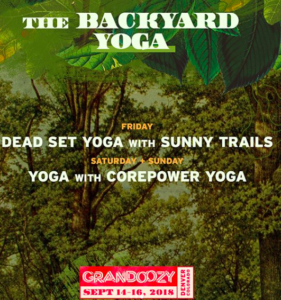 80's Ski Lodge – Music Performances
Relive the iconic ski aesthetic of the 80's with rockin' themed music.
FRIDAY
Golden Girls with DJ Erin Stereo
Trap'd in the 80's with Milky.wav
Goth Night with DJ Slave1
SATURDAY
Whip It! with DJ Jason Heller
80's Italian Disco with Weird Touch
Shout at the Devil with Mr. Steak
SUNDAY
Big Styles Presents the Royal Rumble: Prince vs MJ
Truffle Shuffle for the Goonies
Back in the Day with Maseo
___________________________________________________________________________________