It's official! The Alberta Electronic Music Conference (AEMCON) returns for its third year in 2018. We have dates, key speakers, workshops and more to announce!
"For AEMCON's third year, we're exploring the many ways that artists and electronic music professionals can make their way in the modern economy. From scoring video games and creating Youtube channels, to touring internationally or producing festivals, there are many ways for people to make their way. We've assembled some of the world's best at this conference to teach you how they forged their path."
Alberta Electronic Music Conference (AEMCON)
AEMCON returns to Calgary, Alberta on November 15-18, 2018. The conference will bring together industry leaders with the intention of inspiring and elevating Canada's electronic music scene. Spread across four days, AEMCON will host a diverse selection of more than 100+ guest speakers and performers. That will go along with the 50+ workshops, masterclasses, panel discussions, networking events and evening performances. Attendees will be able to connect, learn, and most importantly, share ideas pertaining to the industry's landscape.
Lineup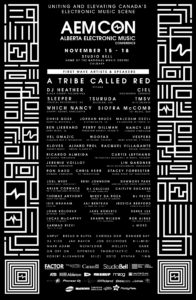 AEMCON 2017
In 2017, the Alberta Electronic Music Conference welcomed to Calgary nearly 400 producers, promoters, music industry professionals and DJs attending from 46 cities across Canada, America, and the UK. The National Music Centre hosted 35 workshops, panel discussions, and interviews.
In addition to the day events, there were over 16 night events to choose from. Attendees had a wide selection of music to take in. Whether it was the Live Electronic Showcase at Habitat or headliner shows at Hi-Fi, Nite Owl, and Broken City. Headliners included Joe Nice, Foreign Beggers, J. Philip, the Librarian and many more. Not only did headliners please the attendees, but also the 'local artists' wowed the audience with just as much skill and creativity as the headliners.
Tickets
Do not miss out on this experience! Buy your conference pass today!
All in all, for more information on AEMCON, follow its' socials:
_______________________________________________________________________________________________________________