https://www.facebook.com/airbeatone/videos/airbeat-one-aftermovie-2018/631608877223503/
Airbeat One Festival announces it will be returning in 2019 for its 18th edition with an Indian inspired festival. The festival will be taking place from July 10th to the 14th of 2019 on the airfield in Neustadt-Glewe.
The 17th edition of North Germany's largest electronic music festival had huge success in 2018 with its' Great British theme. There was 180,000 visitors that rushed into the Airfield during the festival days.
Tickets for 2019 are selling out fast! Buy yours today here.
Airbeat One
This festival is always unique, regardless of the lineup. Especially the main stage which is an absolute eye-catcher every year and alone a reason not to miss this festival. The main stage design is an absolute priority at Airbeat One, so expect to be blown away.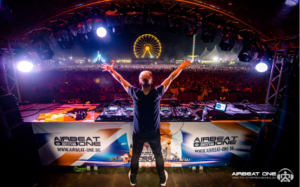 The stage designs are developed with the help from Sebastian Eggert. He develops a visual marvel with the help of the thematic specifications. Those also lead to the biggest DJs in the world to jam every year on incredible stages.
The Coliseum in Rome, a huge place in Tokyo, the capital in Washington or a collage of the House of Parliament, Westminster Abbey, Big Ben and Tower Bridge -The Airbeat One main stage beams visitors to another country. In 2019 say "Namaste"! India is the conceptual theme of the 18th edition of Airbeat One. Festival-goers will walk through Mumbai's most famous landmark, the Gateway of India. Find yourself at the gates of the fort and palace complex of the Red Fort, or celebrate in front of the Taj Mahal, one of the most famous tombs with its white cupolas. The Maharaja of the event, Sebastian Eggert, and his team offer a variety of ways to take your breath away from DJs and visitors in 2019 with a unique stage design.
Lineup
Armin van Buuren can't get enough of Airbeat One! The four-time Dutch top DJ of the World stated "Airbeat One is unique and can't be compared to any other festival. Just look at these incredible Mainstage".
Airbeat One and Armin van Buuren definitely work well together and will continue to work together as Armin van Buuren is set to headline Airbeat One Festival in 2019!
Also set to join Armin are the likes of Dimitri Vegas & Like Mike, The Chainsmokers, Timmy Trimpet, W&W, Vini Vici, EDX, Nora en Pure, and more.
In addition to the phase one lineup release, Airbeat One has also announced that Headhunterz will perform the Q-Dance Stage as well.
https://www.facebook.com/airbeatone/videos/398754274199586/
Click here for the lineup by stage.
All in all, for more information about Airbeat One Festival, follow its' socials:
Facebook. Twitter. YouTube. Instagram.
_______________________________________________________________________________________________________________