Bonnaroo has earned its' place as one of America's destination ever since its start in 2002. Rolling Stone immediately decreed Bonnaroo as one of the "50 Moments That Changed The History of Rock 'n' Roll" after its' first year and has only proven its role in years since. The annual event consistently expands the parameters of what a music festival can offer in the 21st century. Its late-night set times, ramshackle campgrounds, and embrace of folk and jam band culture lets fans experience a shaggier, homier alternative to the hipster vibe of Coachella. America's only major round-the-clock music festival is Bonnaroo. Fans come from all over to experience a seemingly infinite number of options, from the silent disco to its 5k race and yoga classes.
Bonnaroo will return to Manchester's Great Stage Park on June 7-10, 2018. Over 150 artists will be playing at The Farm in Tennessee. Don't wait to confirm your entry in Bonnaroo 2018. Buy your tickets today!
The Bonnaroovian Code
If you are going to be attending Bonnaroo in 2018, you should be aware of the Bonnaroovian Code that developed over the years. The beginning of the Code was never written down, it just always was and now it is! Many Bonnaroovians, including yourself, can make the most of your Bonnaroo adventure following this Code.
Prepare Thy Self – The power to predict is a special human ability. Predicting the outdoor heat in Tennesse summer weather? Think hydration, sunblock, raingear, hats… everything you need to protect yourself from the weather.
Play As A Team – As a community, Bonnaroovians must keep an eye out on each of their friends. The Bonnaroo community is your friend, whether old or new. If you see someone who can use a hand, offer it.
Radiate Positivity – Leave all your negativity at home for this festival weekend. Bonnaroo welcomes you into the The Farm. It is a place where you can celebrate the best things in life. Happiness is the goal and proactive positivity is a proven way to get there.
Respect The Farm – The Farm is a place that grows happiness. In order to continue the sweetest sun-kissed crop of smiles every year is by properly cleaning up. Don't forget what you learned in grade school; reduce, reuse, recycle!
Don't Be That Guy/Gal – That dude is a vibe killer. That gal is a mood wrecker. We've seen it, we've heard it, maybe we've even experienced it, but negativity is not what Bonnaroo is about.
Stay True Roo – Bonnaroo is a few short days of some of the best experiences of your life. Don't let the end of the festival stop you from improving you and the world beyond Roo.
Music and Entertainment
Year after year, Bonnaroo supplies over 150 performances by the best bands around to play for you. At the main stages and tents is where all the magic happens.
Stages & Tents
Previous Bonnaroovians already know What Stage, Which Stage, This Tent, and That Tent…but are you ready for another! The Other was once a tent now turned into a stage the size of Which. Bonnaroo is cranking up the bass for this newly expanded stage and dedicating it exclusively to the best of dance, electronic and hip-hop. This fully loaded stage will have mind-blowing visuals, earth-shattering bass, and the kind of late night sets you'll be talking about forever.
Kalliope
After a successful late night dance party last year, Kalliope is back for another year of all night magic in Centeroo. Known as the legendary late night (early morning) destination on The Farm, Kalliope brings mind-blowing light shows, an earth-shattering soundsystem, and a little something for the pyros out there.
Silent Disco
Silent Disco is one of Bonnaroo's top attractions! It is the world's chilliest wireless dance party with live DJs spinning late into the nights. Allowing the tired to hear silence and the night owls have the volume turned up.
Snake & Jake's Christmas Club Barn
Can't wait for Christmas in July? How about Christmas in June! Snake & Jake's Christmas Club Barn will give you that Christmas celebration in the summer heat. It will bring the legendary New Orleans dive bar to life with an offbeat venue featuring glistening lights, ornate holiday décor, a naughty or nice list and at least one creepy Santa. Festival-goers should get into their holiday spirit with DJ sets, brass bands, robe parties, and more at the Christmas Club Barn.
Comedy
The only thing better than dancing at a music festival all weekend is dancing and LAUGHING at a music festival all weekend. Bonnaroo has got you covered with more than just music. They book top notch, knee-slappin' comedy performances throughout the weekend.
Camping
Car Camping, General Admission Camping
This is the most popular camping option at Bonnaroo. GA Camping is included in the festival ticket purchase only without a vehicle. The campsite area will be around 20' X 20. Each car, truck, SUV, mini van or any vehicle will require a Car Camping pass OR Day camping pass. No standard vehicle will be allowed to enter the Tollbooth without this pass.
Note that if you have purchased one of the specialty programs (VIP, Platinum, Groop Camping, Le Bon Tents, or RV) then a specific vehicle pass is included with your order, which will allow you to enter the campground. Also, if you are looking to participate in Community Camping, you will need to purchase a community camping pass for each car. This is the same price as the regular car pass.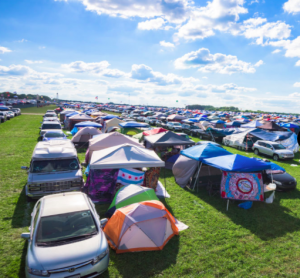 Car Camping Passes: $59.75 + fees (per car) — carpooling will help save money  and reduce pollution!
** If you buy 4 GA tickets at once, you can get 1 Car Camping Pass for FREE!**
Purchase Car Camping Passes here!
Day Parking
Guests looking to park in the "Day Parking Lot" will have to purchase this pass. Day parking starts at 8am Thursday morning until the end of the festival. It is important to note that guests are not allowed to sleep in your car or next to it.
Day Parking Passes: $39.72 + fees (per car)
Purchase Day Parking passes here!
RV Camping
As the other passes, an RV pass is required for each RV entering the campgrounds. RV spaces will be about 20' X 50'. Tents, slides, awnings can be set up as long as they are within the space.
The following vehicles are considered an RV:
Any size RV: Class A, Class B or Class C
Any size bus (no tour buses, prevosts, or motorcoaches allowed)
Any vehicle wider or longer than a normal 15 passenger van (230.8″ x 79.3″ x 82.3″)
Any vehicle towing a camper or 5th wheel of any size. If you're hitching anything, it's an RV. (Box trucks and trailers are not allowed into the campgrounds.)
GA RV Passes (prices include fees):
GA RV Pass: $250
GA RV with Power Pass (30 Amp – 110 volt): $750
GA RV with Power Pass (50 Amp – 220 volt): $795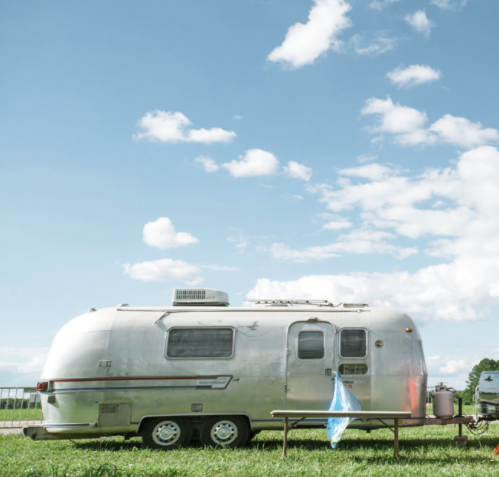 Purchase RV Camping passes here!
Le Bon Tents (GA)
This pass is available for both GA and VIP. Guests can leave the tent pitching and furnishing up to the festival and camp in style with these options:
Souvenir Tent: A Bonnaroo tent for 2 decked out with tons of Roo Souvenirs that are yours to keep – INCLUDING your tent!
Comfort Tent: The Comfort Tent provides a comfortable home base for 2 or 4 people and includes electricity in the tent! Having a cot and a place to recharge is pretty spectacular after a day of traversing The Farm. Pretty convenient, eh?
VIP & Platinum Le Bon Options: Looking for something fancier? Explore some of the more luxurious Le Bon tents that are available for VIP & Platinum ticket holders.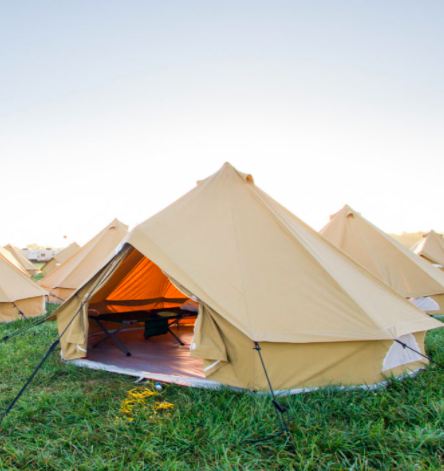 For more information click here! Purchase this pass here!
Themed Community Camps
Make your festival experience the best it could be. Join a camping community with themes, activities and new friends. This is different than the groop camping option. Some of this year's community camps include:
Solo Roo'ers Camp For folks ridin' solo seeking friends.
SheROO by MOTHERSHIP (Benefiting The Tegan & Sara Foundation) for female-identified Bonnaroovians to camp together.
Fan SuperJam™ Camp (Feat. Artist Tyler Childers) for musicians looking to share, learn, & collab.
Also complementary Family Camping and Soberoo Camping for those interested.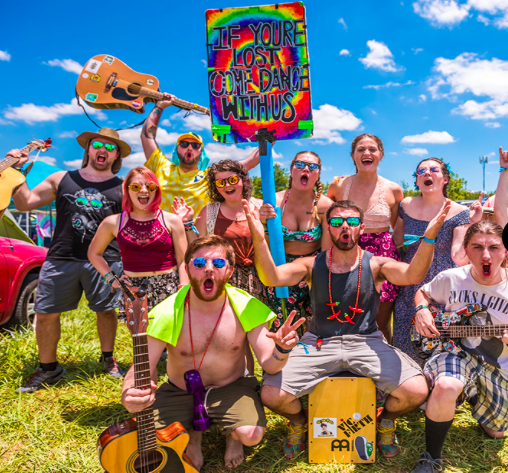 Explore the Themed Community Camps here!
Groop Camping
Groop Camping is made for a groop of 24 plus friends. This allows you and all your friends to camp together no matter when you arrive at the festival grounds. There is a minimum of 24 people required for this pass. The more the merrier!
Just simply nominate a "Groop Leader" and invite your friends to get the party started! Register to be a "Groop Leader" here!
Want more information about this camping experience? Click here!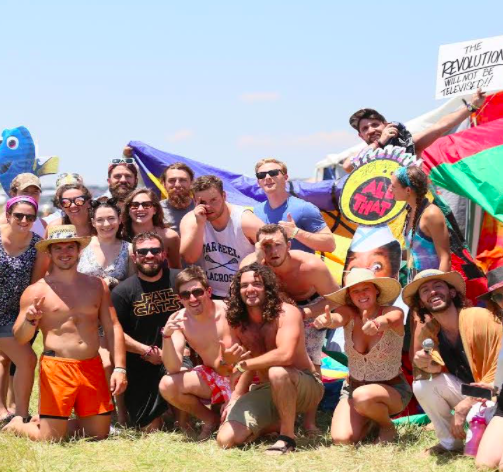 Tasty Food
Bonnaroo offers food for everyone including vegetarians, vegans and those who are gluten free. With over 50 food vendors attending the festival this year, you are guaranteed an amazing, unique food experience, but the food doesn't stop there. There is much more than just food vendors. Bonnaroo will have a tequila bar (The Love Shack by Time Love), the 100% Waste Free Planet Too Café, Hamageddon & Bacon Land, Broo'ers Festival and BonnaROOTs Community Dinners. Buy tickets for the community dinners here! Check out the food vendors here!
Bonnaroo 2017: A Recap
Lineup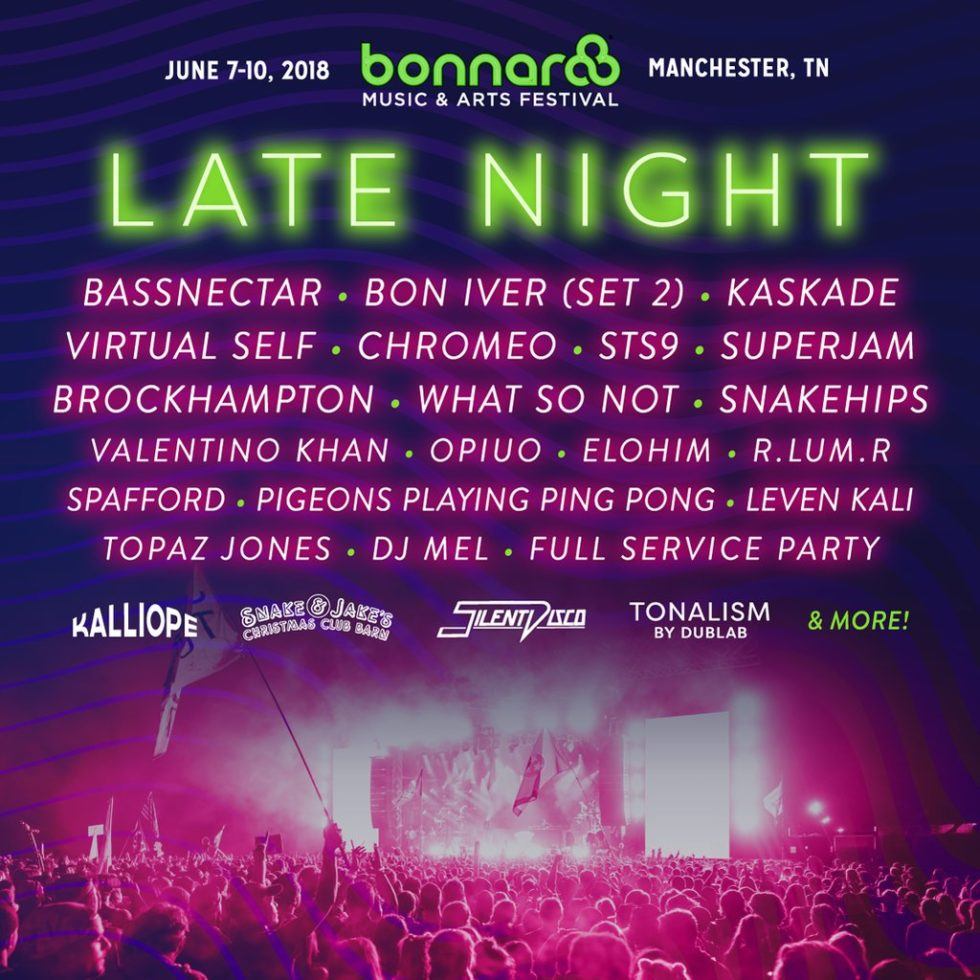 Late Night Sets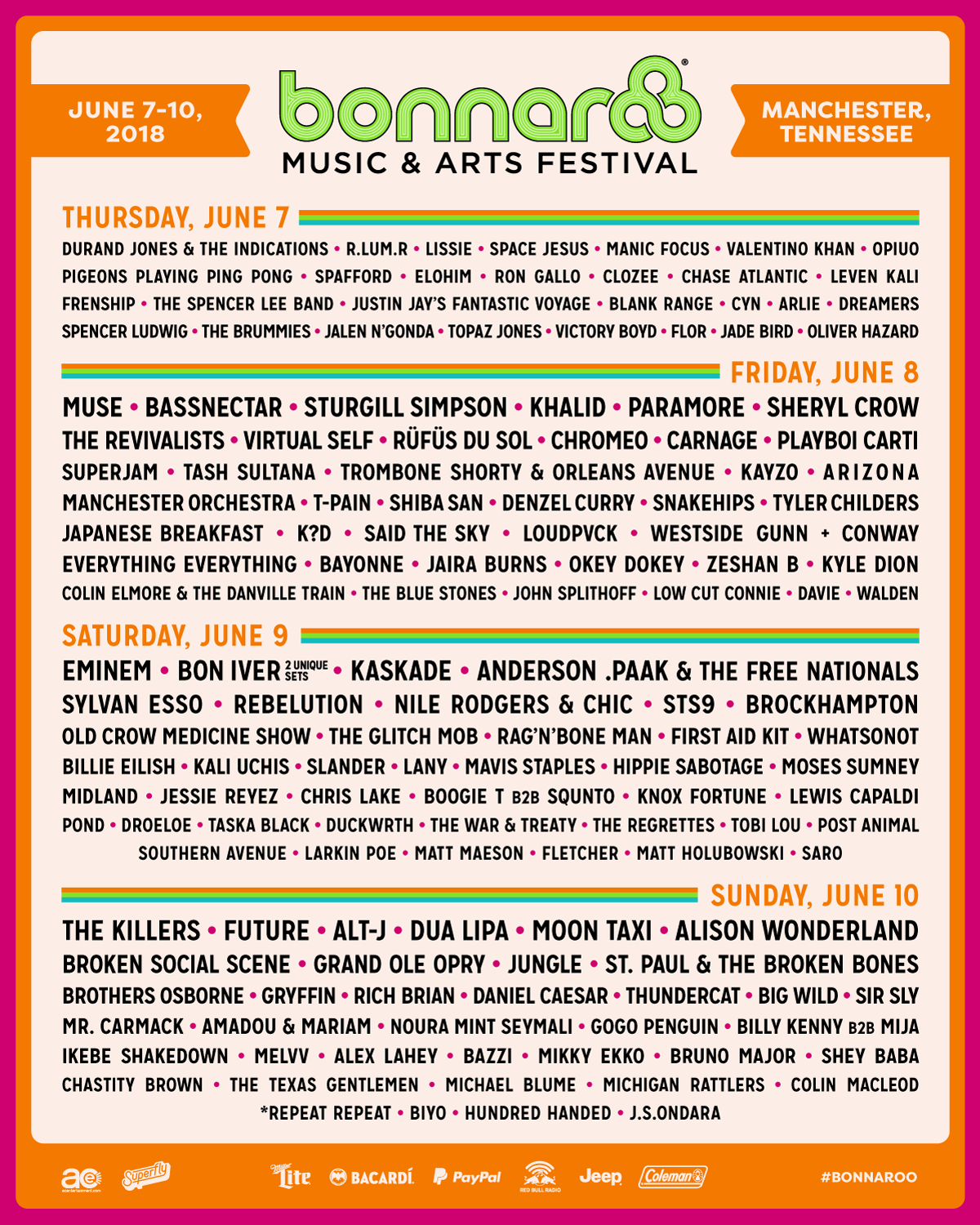 Bonnaroo is a festival for all genres of music accommodating all music lovers. Keep up with its' socials for more information: Facebook. Twitter. Instagram. YouTube. Reddit.
________________________________________________________________________________________________