Boston Calling – May 26-28, 2017
Boston Calling just revealed its food and drink lineup for the 2017 event, which will more than double the number of food vendors and introduce chef-driven elements to the VIP and Platinum experience. Also featured at the festival will be craft beers from local and international breweries and a variety of wines. Boston Calling will take place at the Harvard Athletic Complex in Allston on Memorial Day Weekend, May 26-28, 2017.
General Admission will see 11 new vendors this summer. Attendees can look forward to local barbecue master The Smoke Shop, which will serve menu items featuring Pulled Pork, Chopped Brisket, and Smoked Chicken, including the BBQ Bomb, a cone-shaped waffle filled with queso mac and cheese, BBQ beans, coleslaw, pulled pork, chopped brisket, or smoked chicken, and topped with jalapenos, Moyzilla, a popular area food truck known for its Asian street food, including Hand Folded Pork and Red Cabbage Dumplings, and Stone and Skillet, which will delight festivalgoers with their English Muffin Pizzas. The festival is also excited to welcome the locally favorites El Pelon Taqueria, offering Tacos and Burrito Bowls, vegan dessert favorite FoMu, which will bring its signature coconut milk based ice cream to Boston Calling, and the Shuck Food Truck, which in true New England fashion, will serve Lobster Rolls and Oysters on the Half Shell, available in both General Admission and VIP.
In addition to the newcomers, Boston Calling is excited to welcome back all-star venders including local burger icon Tasty Burger, setting up two locations on the festival grounds, Zinneken's Waffles, bringing its Belgian waffle concoctions like The Sin, with banana and nutella, and Whole Heart Provisions, serving its signature veggie bowls, such as the Viet Style, with roasted broccoli, smashed cucumber, blistered green beans, cured tomato, basil, peanut crumble, and spicy peanut dressing.
VIP and Platinum ticketholders will have access to a select menu from acclaimed Boston restaurants and chefs. In VIP, Will Gilson, Chef
and owner of Puritan & Company will offer Grilled Pork, Organic Salmon, and Free Range Chicken in Tacos, Bowls, and Sandwiches, while Brendan Pelley, Chef of Doretta Taverna & Raw Bar, will serve Chicken Souvlaki and Ancient Grain Salad.  Each night of the festival, Platinum ticketholders will be able to experience chef-driven dinner service from a local culinary talent such as Alden & Harlow's Chef and owner Michael Scelfo on Friday, Commonwealth's Chef and owner Nookie Postal on Saturday, and Chef Gilson from Puritan & Company on Sunday. Notable dishes on the menu in Platinum include Pickled Corn Pancakes with Maple, Buttermilk, and Shishito from Chef Scelfo and Grilled Chorizo with Red Cabbage Curtido, Lime, and Spicy Crema from Chef Postal. In addition, a variety of craft cocktails will be available for Platinum ticketholders to purchase.
Boston Calling will serve an assortment of beers in both General Admission and VIP To help wash down all that amazing food. Returning to the festival this year will be hometown favorite Samuel Adams, which will serve a wide range of its brews, including seasonal selections like Porch Rocker and Raspberry Lemon Gose. Fan favorites Miller Lite and Miller High Life will be available and Mikkeller Brewing will once again offer its special Boston Calling beer, the BC Dream Hoppy Pilsner, among an assortment of some of its other specialty brews, available at the festival's Mikkeller Craft Beer Bar. Wine lovers can enjoy Dark Horse Wines' Cabernet and Rosé, while Dunkin' Donuts hot and iced coffee, a variety of sodas, bottled water and assorted Red Bull flavors will also be available.
---
Full Food and Drink Lineup
 *New Vendors for 2017
All vendors and menu items are subject to change
General Admission Food Menu
Arancini Bros
Classic Ragu – Saffron Risotto with tomato meat sauce, peas and mozzarella
Bianco Verde – Basil pesto with mozzarella
Buffalo Ball – Roasted chicken with gorgonzola cheese
Bucatini Fritti – Italian style mac and cheese
Pizza Ball – Margherita tomato, basil, mozzarella
Our Famous Nutella – Hazelnut chocolate and cinnamon sugar
Granito Pops – Lemon, pistachio, and watermelon
*Big Mozz
Mozzarella Sticks
Bon Me
Signature Vietnamese Sandwiches and Soba Noodle Salads with choice of filling:
Spiced Rubbed Chicken
Chinese BBQ Pork
Roasted Soy and Paprika Tofu
CopperDome Crust
Artisan Wood Fired Pizza with a variety of toppings
*El Pelon Taqueria
Steak or chicken tacos with rice and black beans
Steak or chicken bowl with a flour tortilla, salsa, Mexican rice and black beans
Chips, salsa, and guacamole
Firefly's BBQ
St. Louis Ribs
Pulled Pork Sandwich
Pulled Chicken Sandwich
BBQ Bowl with pulled pork or pulled chicken, mac and cheese, beans and coleslaw
Pulled Pork Mac and Cheese
Pulled Pork Mac and Coleslaw
Crazy Roo Wings Big Side of Mac
BBQ Beans
Coleslaw
Cornbread
Potato salad
*Flatbread Pizza
Pizza by the slice
*FoMu
Ice Cream Scoops
Ice Cream Sandwiches
Baked Goodies
*Joe's American Bar & Grill
Joe's Original New England Clam Chowder
Classic Chili
*Moyzilla
Katsu and panko crusted pork tenderloin with cabbage, aioli and optional jasmine rice
Rice and cabbage salad with soy ginger dip
Hand folded pork and red cabbage dumpling
*Riceburg
Rice burgers, rice bowls, and salad bowls with the choice of filling:
Spicy Sweet and Sour Crispy Chicken
Bulgogi Shaved Steak
Spicy Sweet and Sour Vegetarian Chicken
Shiitake Mushroom
Roxy's Grilled Cheese
Hot Honey Bacon
Green Muenster
Classic Grilled Cheese with Roasted Tomato
Grillos Pickles
Chocolate Chip Banana Bread
Ruth's Chris Steak House
Steak Sandwich
Salad with Steak Sandwich
Salad with Lobster or Lobster Roll
Vegetable Wrap
*Sate' Grill
Brown Rice with choice of Chicken, Tofu, or Beef
Rice Noodles with choice of Chicken, Tofu, or Beef
Mixed greens and Veggies with choice of Chicken, Tofu, or Beef
Crispy Rolls
Gyoza Dumplings
*Shuck Food Truck
Oysters on the Half Shell
Lobster Roll, Cape Cod cold
Lobster Roll Slider
*Stone and Skillet
English Muffin Cheese Pizza
English Muffin Pepperoni Pizza
English Muffin Hawaiian Pizza
The Sausage Guy
Sweet, Hot and Bourbon Sausages
Sausage Guy Brats
All Beef Hot Dogs
Steak Tips
*The Smoke Shop
Queso Mac and Cheese
Chopped Brisket Sandwich
Pulled Pork Sandwich
Smoked Chicken Sandwich
Tacos (3 per order) – with salsa verde & cabbage slaw; choice of chopped brisket, pulled pork or smoked chicken
BBQ Bomb – waffle filled cone filled with queso mac and cheese, BBQ beans, coleslaw and choice of pork, brisket, or chicken, and topped with jalapenos
Butter Cake
Pit Crew – 2 meats, 2 sides
Pit Boss – all 3 meats, all 3 sides
Sides: BBQ beans, coleslaw, corn bread with honey-sea salt butter
Tasty Burger
Hamburger
Cheeseburger
Bacon Cheeseburger
Veggie Burger
Veggie Burger with Cheese
Tots
Chips
Whole Heart Provisions
Veggie bowls with a choice of a base of greens or grains in the following styles:
Tazon Style Bowl – Pineapple, Corn Salsa, Korean Black Beans, Smashed Cucumber and Tomato, Red Cabbage Slaw and Lime Vinaigrette with Corn Nuts
Miso Style Bowl – Roasted Broccoli, Shaved Brussels Sprouts, Smashed Cucumber, Pickled Carrots, Red Cabbage Slaw with Orange Miso Sauce and Toasted Sesame Seeds
Viet Style Bowl – Roasted Broccoli, Smashed Cucumber, Tomato, Pickled Carrots, Savory Green Beans Spicy Peanut Sauce and Peanut Crumble
Sides:
Seared Avocados
Food Should Taste Good Chips
Zinneken's Belgian Waffles
Sugar Belgian Waffle
Toppings:  Nutella, Banana, Maple Syrup, Cookie Butter Spread, Caramel
---
VIP Food Menu
Ruth's Chris Steak House
Beef Sliders
*Shuck Food Truck
Oysters on the Half Shell
*Love Art Sushi
Shoyu Ahi Tuna Poke Bowl – Hawaiian Marinated Yellowfin in soy, sesame, chili, garlic, nori with scallions over seasoned sushi rice
Spicy Crawfish Sushi Bowl – Tender Crawfish tossed in Sriracha wasabi aioli topped with panko over seasoned sushi rice   Avocado Ponzu Boat – Half an avocado surrounded by microgreens filled with citrus ponzu topped with furikake over seasoned sushi rice
*Puritan & Company (Friday & Saturday)
The choice of tacos, a bowl with grains and greens, or a sandwich with the choice of the following proteins:
Grilled Pork
Organic Salmon, raw or grilled
Free Range Chicken
*Doretta Taverna & Raw Bar (Sunday)
Chicken Souvlaki with tzatziki, pickled onion and tomato
Ancient Grain Salad with dried fruit, nut & seeds and cumin yogurt
---
Platinum Food Menu
*Collettey's
The Amazing Cookie
*Michael Scelfo of Alden & Harlow (Friday)
Broccoli With Squash Hummus & Smoked Cashews
Kale Salad With Pistachio & Lemon
Pickled Corn Pancakes With Maple, Buttermilk & Shishito
Pulled Pork With Fennel Slaw And Potato Rolls
*Nookie Postal of Commonwealth (Saturday)
Snap Pea Greek Salad, Feta, Cucumbers, Olives, Chilis
Smoked Chicken Thighs, Grilled Peach And Scallion Relish
Grilled Chorizo With Red Cabbage Curtido, Lime, Spicy Crema
Parkerhouse Rolls
*Will Gilson of Puritan & Company (Sunday)
Salad with Vegetables, Grains, and Cheese
Salad with Spring Greens, Lemon Vinaigrette, Herb Croutons
Grilled Marinated Chicken
Herb Baked Salmon with Preserved Meyer Lemon Relish
Rice And Black Eyed Peas
Roasted Potatoes with Mustard Butter
Sauteed Broccoli Rabe with Roasted Garlic and Parmesan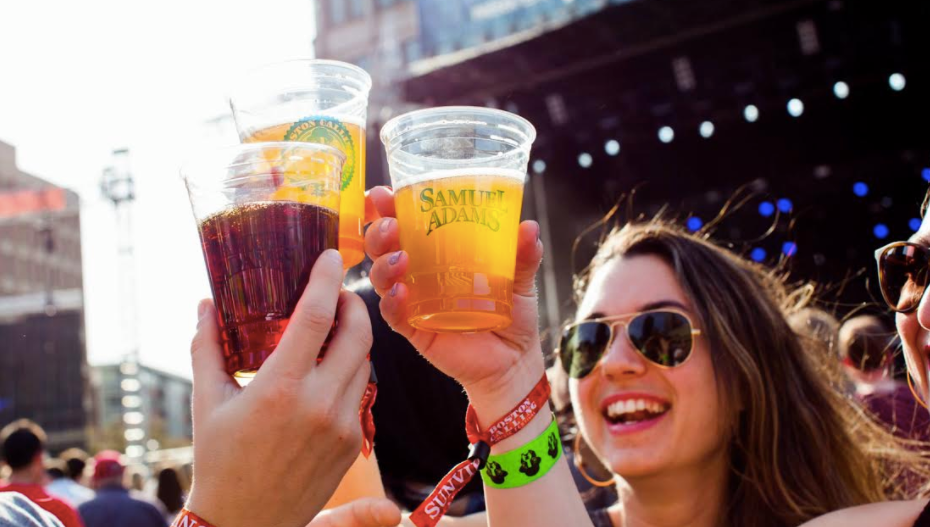 Beer & Wine Menu
Beer
Samuel Adams Raspberry Lemon Gose
Samuel Adams Porch Rocker
Samuel Adams Rebel IPA
Samuel Adams Summer Ale
Miller Lite
Miller High Life
Henry's Hard Soda Orange
Angry Orchard Easy Apple
Truly Spiked and Sparkling, Colima Lime
Pilsner Urquell
Peroni
Mikkeller Windy Hill IPA
Mikkeller Peter, Pale and Mary
Mikkeller Waves IPA
Mikkeller BC Dream Hoppy Pilsner
Mikkeller Raspberry Blush
Mikkeller Hop Geek Breakfast
Mikkeller May 6th Hazy APA
Mikkeller Beer Geek Breakfast
Wine
Dark Horse Cabernet
Dark Horse Rose
---
Boston Calling Day-By-Day Music Lineup
Friday May 26, 2017
Chance The Rapper / Bon Iver / Sigur Rós 
Solange / Sylvan Esso / Mac DeMarco / Car Seat Headrest / Francis & The Lights/ Deerhoof / Whitney / Lucy Dacus / Vundabar / Xylouris White
Saturday May 27, 2017
Mumford & Sons / The xx / The 1975 
Nathaniel Rateliff and The Night Sweats / Tegan and Sara / Brandi Carlile / Majid Jordan / Oh Wonder / Danny Brown / Cousin Stizz / Russ / Strand Of Oaks / Moses Sumney / Kevin Morby / Tkay Maidza / Alexandra Savior
Sunday May 28, 2017
Tool / Major Lazer / Weezer
Cage The Elephant / Run The Jewels / Flatbush / Zombies / Wolf Parade / Piebald / Frightened Rabbit / Converge / Buffalo Tom / Mitski / PUP / Hiss Golden Messenger / The Hotelier / Mondo Cozmo
---
Boston Calling Comedy Experience Lineup
Friday, May 26, 2017
Pete Holmes
Eugene Mirman
Lamont Price
Kelly MacFarland
Saturday, May 27, 2017
Hannibal Buress
Phoebe Robinson
Jordan Rock
Bethany Van Delft
Sunday, May 28, 2017
Tig Notaro
Kate Berlant and John Early
Josh Johnson
Nick Chambers
---
Tickets
Single Day Tickets are $99 for General Admission and $199 for VIP. A limited number of General Admission Three-Day passes and VIP Three-Day passes are available for $269 and $529, respectively. Additionally three-day Platinum passes are $999; Single-day Platinum passes are sold out. Private elevated Skybox lounges are also available for 12 to 50 people; details and pricing are available upon request.
Tickets are now available Here
Getting There
Boston Calling is best accessed by the T on the Red Line's Harvard Square stop; from there it is a short walk to the festival's main entrance.  There will also be bike racks available onsite.  At present, onsite parking is available only to Platinum VIP package purchasers.
Website / Tickets / Facebook / Instagram / Twitter
---