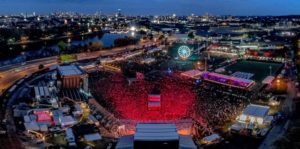 Boston Calling, a Boston based music festival happening Memorial Day Weekend (May 24-26, 2019), has delivered a food and drink lineup that is bound to please even the foodiest of festival goers. More than 20,000 people from around America will flock to the Harvard Athletic Complex in Allston to experience the overflowing lineup including headliners Twenty-One Pilots (Friday), Tame Impala (Saturday), and Travis Scott (Sunday). However, with a variety of fare ranging from award-winning barbecue to a raw bar sourced directly from the Atlantic, the food and drinks may become just as memorable as the music itself.
General Admission
This year's menu has something for everyone, including a wide assortment of craft beers and wines on hand to toast to Boston Calling's Tenth edition, a stellar collection of new culinary treats from legendary chefs, and of course returning fan favorites.
Boston Calling welcomes back Roxy's Grilled Cheese, with its delicious grilled cheese sandwiches, including the Green Monster stuffed with three cheeses, crispy bacon and fresh guacamole; Arancini Bros and their variety of mouthwatering arancini flavors, such as the Classic Ragu which is Saffron Risotto with Tomato Meat Sauce, Peas & Mozzarella;The Smoke Shop, chef and owner Andy Husbands' award-winning barbecue joint; and local burger authority Tasty Burger, which returns with its Tasty Burger Tots and introduces its newTasty Burger Chicken Nuggets. Other returnees include Zinneken's with authentic Belgian Wafflesand the Shuck Truck with an incredible raw bar selection and Cape Cod lobster roll sliders. Between Whole Heart Provisions and The Chubby Chickpea, there will be ample vegetarian and vegan options, and when paired with decadent vegan ice creams from Fomu, a meal is complete.
New to Boston Calling's General Admission food offerings are Sweet Cheeks Q, two-time James Beard Best Chef nominee Tiffani Faison's barbecue mecca, which will be serving up Smoked Hot Chicken Philly Cheese Steaks, Oooey Gooey Cheesy Nachos, and a mind-blowing Fluffernutter Garbage Sundae; and Café Beatrice, an exciting new pop-up restaurant from Will Gilson, the celebrated chef and owner of Cambridge's Puritan & Co., which will feature, among other options,Roasted Pork, Provolone and Broccoli Rabe, and Prosciutto, Pepper, Fig and Burrata Sandwiches.Stuffed by Papi is a new addition to the bill, offering its signature Sopapillas like Chipotle and Pineapple Marinated Smoked Pork with Pineapple Pico and Homemade Hatch Green Chile Aioli Slaw served with a Handmade to Order Sopapilla, while the locally acclaimed food truck, Boston Trolley Dogs, rolls in with the Duke, their popular beef hot dog topped with relish, onion and deli mustard.    
Platinum Ticketholders
As in past years at Boston Calling, Platinum ticketholders will be treated to specialty evening menus created and prepared by some of the city's most rousing culinary talent. Friday night features legendary two-time James Beard Award winning chef Jody Adams of Trade, Porto, and Saloniki. Adams will welcome guests with a Greek, Saloniki menu including a brilliant Meze Board comprised of crispy pita chips and house made dips, olives, sheeps milk feta and veggies before hosting a Souvlaki Sandwich Bar, complete with an assortment of grilled skewered meats including chicken, pork, and lamb. Yet another James Beard Award winner, Jamie Bissonnette, chef and partner of Toro, Coppa and Little Donkey, will host Saturday's Platinum menu. He will offer aFoie Bratwurst with Japanese flavors, a Lamb, Bacon, and Lettuce wrap station, Fried Chicken Sandos and the sensational Impossible Burger. Sunday nights menu closes the festival with a classic northeastern seafood spread from an icon within New England cooking: Jeremy Sewall, chef and partner of of Island Creek Oyster Bar and Row 34. Sewall's seafood expertise will be represented with a selection of Maine Lobster Tacos, Crispy Oyster Sliders, a Smoked Salmon Plate complete with pickles and grilled bread, and a Roasted Chicken with Rigatoni and Basil Pesto.
Drinks
Just as Boston Calling has curated a vast assortment of culinary choices for its 10th edition, it has also sourced an equally standout selection of beers and wines in both General Admission and Platinum. Hometown brewing favorites Samuel Adams will be returning again this year with an assortment of flavors, including three staple summer brews, Summer Ale, Sam '76 and Boston Lager. Returning to Boston Calling from across the Atlantic is Copenhagen's acclaimed Mikkeller Brewing with a wide array of signature craft brews on tap including Staff Magician NE Pale Aleand Mikkeller Chill Pils Yuzu Pilsner. Barefoot Wines will also be featured with an assortment of wines such as the Barefoot Summer Red Spritzer and the classic Barefoot Pinot Grigio. Platinum guests will have access to, during limited serving hours, exclusive curated bars, signature cocktails and an assortment of superlative spirits including Kettle One and Bulleit Bourbon.
Sodas and bottled water will be available for purchase throughout the entire festival. In addition, several free water stations will be onsite at Boston Calling for attendees who bring a factory sealed water bottle or empty beverage container.
Tickets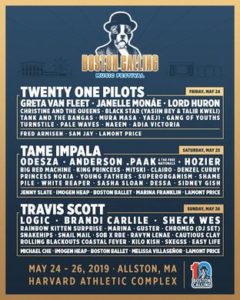 A limited number of Single Day and Three-Day General Admission, VIP and Platinum Passes are on sale now. Be sure to buy your tickets soon as to not miss out on an unforgettable weekend filled with decadent food and incredible music.
[youtube https://www.youtube.com/watch?v=O0mnA-wGw3I&w=700&h=315]
Stay connected with Boston Calling:
________________________________________________________________________________________________________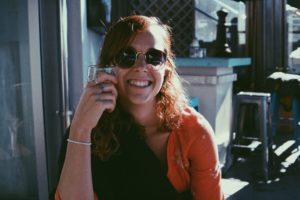 FestPop Staff Writer, Julia Osteen