Toronto-based collective, Brigada was created to showcase the great talents of the electronic music scene. The name is actually a Spanish term for Brigade, meaning unit or squad.  Just like their name, Brigada is rooted in friendship. Comprised of four members, Conrad, Mina, Andrew and Daniyal, Brigada helps others 'come together' and is continually searching for local and international talent to join their mission of producing unique and infectious music that speaks to the soul. This collective brings spectacular and fresh events to the city, especially their memorable "Brigada Bonfires.'
This summer, the collective will be performing at Canada's Camp Summerdaze! Returning for its fourth season on June 14-16th, with the theme of 'Connectivity,' Camp Summerdaze is set upon a private lakefront property in Northern Ontario, Canada. Expect a weekend of beautifully curated music [live performances and DJ sets], multiple yoga and meditation sessions, creative workshops and more! We had the chance to chat with Brigada and hear their collective's loving stories and exciting plans for the future. Here's what the they had to say!
Brigada is composed of four people who've come together to perform deep tech house sets around the city of Toronto. How did y'all initially meet and what sparked the idea to form Brigada in 2016?
We have all been friends for around 8 years now, some of us for over 12. We all share a similar passion for music, so the electronic music scene played a big part in bringing us together. With that being said, Brigada was definitely not planned.
It officially started in the Fall of 2016, when we played a fun DJ battle at Parlour, one of Toronto's best deep house venues. At the time it was Conrad & Mina, who were already familiar playing together, pinned against Daniyal (aka Studio G) and Chorniy (aka Mundane). We each played two tracks back to back all night long, and the vibe was on point from beginning to end. For us, that night sparked it all. From there we collaborated on a few outdoor events over the following summer, which reaffirmed our ability to work together. By the end of the summer we knew we had something real. Now, Brigada is here and super excited that we took a chance on something different.
I noticed you've been featured on a lot of podcasts over the past few months, with your most recent one called 4AM in Toronto. Is this the beginning of a new project? What does 4AM represent to Brigada and where do you see this headed in the future?
Yes, 4AM in Toronto is a new podcast series for Brigada. The goal of the series is to transcend our listeners into an upbeat journey through deep tech and progressive house grooves. It's inspired by the late nights and early mornings of Toronto. For us, 4AM represents much more than being out past your bedtime. It embodies an upbeat resilience and dedication to music that really moves you. At the moment, we want to represent Toronto by building the brand among local DJs who have inspiring styles. If all goes well, by next year we plan to feature esteemed and upcoming artists from international cities. In the future, we really hope to have a global platform that represents all shades of late night deep tech music with individuals just as passionate about connecting with others.
Together, you've thrown some fun events such as bonfires and boat cruises, which line up beautifully with the atmospheric tracks in your sets. Why do you think having events in secret locations has worked out so successfully for you? What is the crowd difference between a club setting and your bonfire event series?
We definitely look forward to these events the most! While we're here, you should probably hear the story of how the bonfires became what they are today. It originally started as a birthday ritual for Chorniy. There was about 10 to 15 of our friends that would come together in a secluded area of the park to simply listen to music by an open fire. We would literally be playing CDs from a battery powered boom-box, which would of course eventually die.  Now, we have a few hundred people in attendance, proper sound set up, and essential generator to keep us going all night. We're constantly looking to increase production value. However, these events have fundamentally become more and more successful because people want something different. It's the off-the-grid vibe and spontaneity that resonates with our followers the most.
"Clubs can be abrasive, overwhelming and expensive. Our bonfire events are quite opposite and bring together free spirited people with no agenda. Egos are checked at the door (or on the grass haha). Truly the only focus is celebrating quality music until the sun comes up. It's special for us because the open mindedness of the crows creates a very warm and generous atmosphere." – Brigada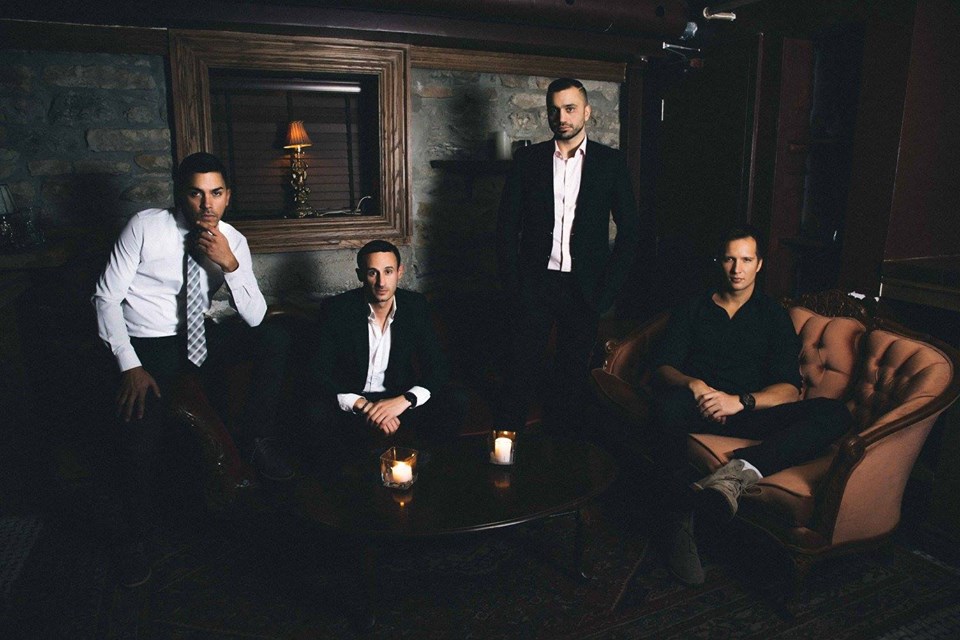 How do you think the preparation for your Camp Summerdaze set may differ from the events you've played in Toronto?
For us, something like Camp Summerdaze is innate. We thrive in playing outdoors like this. Unlike other venues in Toronto that might require us to hone in on a certain style, we won't need to deviate too much from our regular game plan in terms of preparation. This is definitely one of the biggest gigs to date for us. With that said, we are all elevating our standards for this event. The outdoors tend to have an effect on us. We want to make sure our set is memorable and we are all ecstatic to share music with this amazing community.
Having a DJ name represent four people is relatively unique in the music industry. What is the mixing process like with four people behind the decks? Logistically speaking, does it ever get too crowded? How do you balance input among members for your live sets?
It's fairly straight forward for us, we each play two tracks B2B2B2B2B all night long. Four DJs in a group is very unconventional, so yes it can get crowded sometimes. Although, this does also allow time for each of us to take a breather, socialize and enjoy the party. Trust, we were just as skeptical in the beginning about the programming but there's not much more to say other than it works.
Music is one thing we don't have to worry to much about because we know each other's capabilities quite well. The main contributions from our members is typically other responsibilities such as social media, venue bookings, sound editing and most importantly…chopping wood!
You can purchase tickets to Camp Summerdaze here and RSVP to the event here!
FOLLOW BRIGADA
Instagram | Facebook