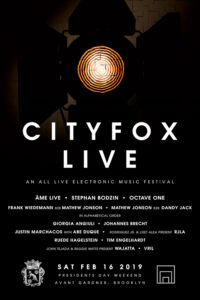 New York City event purveyors
The Cityfox Experience
are pleased to present the debut of Cityfox LIVE on Saturday, February 16 at East Williamsburg's multi-room event complex, Avant Gardner. Cityfox will welcome leading live house and techno acts presenting a number of never before experienced live audiovisual sets, exclusive premieres and US debuts. Produced by Reynard Productions, the new series will provide a platform designed to push the creative boundaries for both established and up and coming live artists, in what is certain to resonate with underground NYC tastemakers.
About the Artists
Taking over the multi-room venue, Cityfox is pleased to present a live audiovisual debut from Innervisions co-founder Âme LIVE (Frank Wiedemann) as well as welcoming back live techno stalwart Stephan Bodzin. Fans can look forward to an exclusive audiovisual show from analog Detroit techno pioneers Octave One, two back-to-back sets featuring Wagon Repair label head Mathew Jonson for two debut collaborations with Frank Wiedemann and Dandy Jack. There will also be an improvised session in the Lost Circus with Giorgia Angiuli who is known for her unique approach that incorporates children's music toys and her own vocals. Other notable acts include classically-trained turned electronic music maestro Johannes Brecht, a one-off back-to-back set with cinematic techno producer Justin Marchacos for a special performance with Abe Duque. Melodic techno duo Rodriguez Jr. & Liset Alea will present RJLA for their first ever North America performance featuring live vocals. Adding to the trailblazing lineup are electro-pop duo John Tejada and Reggie Watts present Wajatta for their New York debut and Watergate resident Ruede Hagelstein who will be accompanied by live strings. Additional groundbreaking talent include 20-year-old prodigy Tim Engelhardt who will treat ticket holders to a special live set on analog equipment and VRIL who will present the US debut of his second album, 'Anima Mundi.'
Avant Gardner
Spanning an entire city block, Avant Gardner is comprised of three rooms all varying in size and style as well as the summer outdoor pop-up space, The Brooklyn Mirage. Rapidly establishing itself as one of the city's best nightlife spots that is home to leading event purveyors The Cityfox Experience. Together they have continuously pushed the envelope when it comes to production and showcasing world-class lineups. From their top-of-the-line crisp KV2 audio sound system, to their epic audiovisual and lighting displays, Avant Gardner has quickly made a name for itself as the place to experience both established and rising house and techno stars from all corners of the globe.
Buy your tickets in advance 
here
!
For further information about the event check out it's social platforms:
_______________________________________________________________________________________________________________________