Is there a better way to celebrate the Labour Day than being off-labour? It's time for the hard work to pay off!  This Labour Day weekend, let's free ourselves from the wall and enjoy the late summer holiday in a whirl of feverish party at Electric Island!
It's fair to say Electric Island has become Toronto's favourite underground music festival of the summer. Now, in its 6th season, it's amazing to see how the festival has grown in size, location, production and international prominence!
It never stops striving for a better party experience for everyone. On Sunday, September 2 & Monday, September 3, they welcome the omnipotent Nicole Moudaber, the house & techno kung-fu master Loco Dice, the awards-harvester Charlotte de Witte, and dozens of more talented musicians to play their magic on the dance floor. Prepare to be rocked! Especially, when proudly-made-in-Toronto artists such as Nitin, Jamie Kidd, Shelley Johannson, and Nature of Music leave the island in a state of bliss.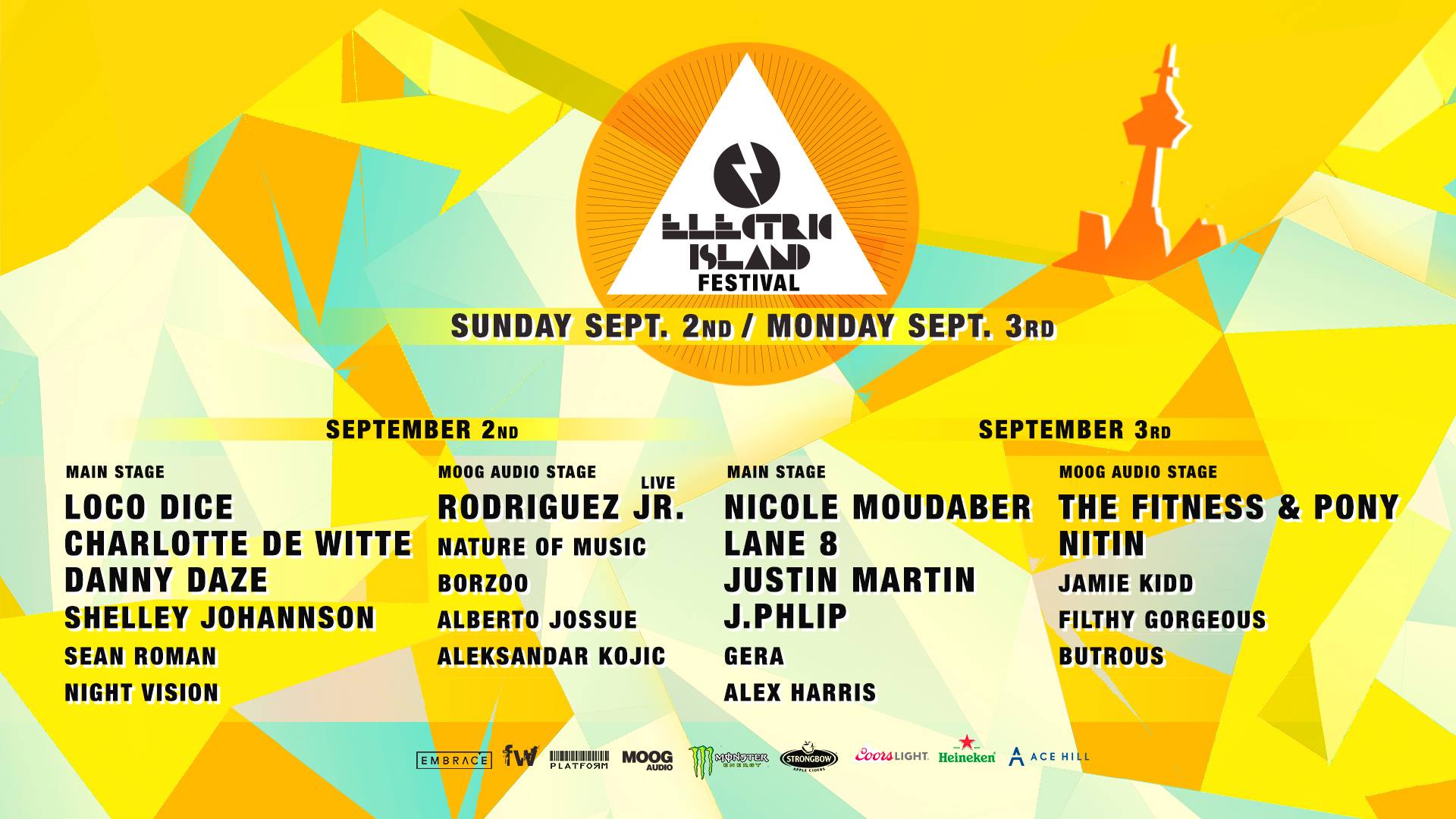 Throughout the years, Electric Island has enjoyed various headquarters, starting off at their humble home on Centre Island back in 2013. As the festival grew, it eventually relocated to the larger, lush area of Hanlan's Point. With this season's scorching heat and endless sunshine, we couldn't be happier to see Electric Island back at Hanlan's Point, enjoying the vibes that can only be felt from being on an island!
The production of the festival has also seen a significant evolution over the years. What began as a relatively small event, with a modest stage and some atmospheric lighting in the trees, has now grown into a 2 stage production! The site at Hanlan's Point offers festival-goers a great green space to roam about, scattered with picnic tables, a Hippy Market, mouth-watering food trucks, bean bag cushions to lounge in, a water-misting station to cool off in, and a substantial VIP area. Not to mention, when the sun goes down and the lights come up, the main stage is truly spectacular! Hats off to the production team who has created the perfect balance between intimacy and wow-factor.
Nothing brings us back to life like music. The city's most riotous festival will return with the most intoxicating beats and melodies. Hop on board and hang on to the tail of summer at the season finale of Electric Island! Grab your tickets here.