Envision Festival Costa Rica just dropped one of the wildest lineups ever delivered to the Jungle for 2019. The community built 4-day music & arts festival returns for its' ninth edition to the Pacific Coast of Costa Rica. In 2019, Envision Festival will be held between February 28th and March 3rd in a gorgeous ocean adjacent jungle in paradise.
Every year the festival serves up heavyweight performers alongside stylish, avante garde talent from the most culturally rich underground communities in Europe and the Americas. Envision Festival is known as a launchpad for Latin America's top producers. As well as a popular bucket-list item for top shelf taste-makers across the world.
Envision Festival
Envision is committed to proving that lineups can be culturally diverse and still arrive stacked with a bevy of talent with an unmistakable must-not-miss allure. This years lineup peers far into the future. Artists intentionally were selected to awaken the self to a higher consciousness in alignment with the natural harmony. That is all on three internationally acclaimed, flame-throwing, projection mapped dance music stages. The stages were built by world-class sculptors and fabricators in collaboration with local Ticos.
"Coming into our 9th edition, we really wanted to step up our game. We created a diverse and extremely strong gathering of well-established international artists and local emerging talents. Without a shadow of a doubt, we are proud to announce the best lineup in the history of Envision!" Josh Wendel, Envision Festival Founder said of the announcement.
"The creative and conceptual process behind our stages is another core element of our production and identity. We create a 360-degree sensorial experience not only through high class music, but also intricate visuals and captivating performances. The unbreakable bond between some of the most talented woodcrafters and local bamboo builders is reflected in all our creations, and we're honored to share the love and the care behind our designs. Each stage will be an entirely new build this year, and we can't wait to share them with you!"
Envision 2019
Envision 2019 is challenging the status quo. It is a music and art festival, locally crafted to deliver a new, holistic spin on the conventional music listening experience.
Progressive icons of social consciousness like Australian sacred bass specialist Deya Dova and Denver-based climate activist Xiuhtezcatl emphasize vision found in the 8 pillars of the event, while featured headliners like the Hawaiian hybrid, Trevor Hall, continue a tradition of flavorful folk, reggae and roots. Elektro funk pioneers, The Floozies, will also serve up jams from the jazz capital in the heart of Kansas. San Francisco's Tycho, is set to present a smooth psychedelic ambiance alongside the dark house beats from Bedouin, for a delightful combination of sweet and savory that is seldom experienced in the jungle.
Next, Envision delivers the sounds of Burning Man, with timeless legend of Robot Heart and 'All Day I Dream' leader, Lee Burridge alongside the latin house fusion aficionado fresh off the Mayan Warrior, Nicola Cruz. Then Sabo, the globally recognized dance music legend stops by with a tropical flair we've all come to love about the event. CloZee makes her 4th appearance at the festival, both as a fan favorite and as France's most valued export in kundalini-blasting bass music. Also from France, the explorer extraordinaire, Viken Arman, will draw on roots in classical, jazz and ancient rhythms.
In the final top spot for the phase 1 announce, Envision looks forward to introducing Detroit original and soul funk marvel Grant Kwiecinski for a must-not-miss debut performance of GRiZ on the Luna Stage. As a haven to bass-lovers and the most advanced display of pyrotechnics among our three masterfully crafted stages, the Luna Stage is a monument to the staggering ingenuity of our teams and the endless creativity of the (almost) all girl build crew at the Reliquarium.
Phase 1 Lineup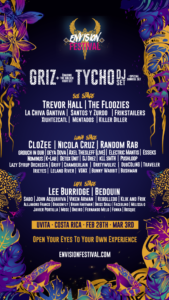 Regenerative Celebration
Envision is an established pivot for environmentalists in festival culture. Aspiring for harmony with nature in Costa Rica and abroad. To this end, numerous initiatives are woven throughout the fabric of the culture at the event. They are designed to nourish the local communities while protecting the jungles of the region. In an effort to leave a positive footprint, Envision hosts a reforesting program which has planted more than 12,000 trees over the last 7 years.
To protect the environment and cut down on waste, ALL single use plastics and outside alcohol are banned. Vendors serving foods onsite pledge to uphold Envision's commitment to buy locally grown produce for an authentic dining experience that can't be found anywhere else in the world. Additionally, they offer a dishware rental program and encourage a BYO mentality to repurpose and reuse. There will be quick clean up stations conveniently located throughout the venue.
All the clothing and craft products sold in the market are fashioned by local and international artists. Stages and structures are made the local Tico way. That is almost entirely with eco-friendly materials harvested from the nearby jungle, in a process they've dubbed 'Jungle-Tek'. Through these efforts and more, Envision upholds an ethos of regenerative celebration that continues to inform everything they do. From what foods are included in a dining experience to which musical story is told on the lineup.
Watch below for a peek at what you could experience at Envision Festival 2019.
Tickets
All things considered, Envision is a workshop of inspiration and a medicine for the soul. Don't miss out on this experience. For those digital nomads looking for the destination experience of a lifetime, or for those couples who didn't get much time alone on Valentine's Day, look no further. GA tickets, Early Arrival passes, and VIP packages are available here.
All in all, for more information on Envision Festival, follow its' socials.
Facebook. Twitter. Instagram. Event Page. SoundCloud.
_______________________________________________________________________________________________________________