EXIT Festival's No Sleep Novi Sad has new reinforcements hailing directly from South America! The stage is arguably the most iconic and instantly recognizable open-air space in electronic music. After EXIT held its No Sleep Brazil party in Sao Paulo in D-Edge, it's time for the Brazilians to return the favor and conquer the Petrovaradin Fortress for one night. #NSNS2019 will be visited by British techno producer Blawan. Joining Blawan is the exquisite Italian musician Giorgia Angiuli. EXIT Festival returns July 4 – 7 this summer.
EXIT Festival
D-Edge residents will be led by the founder of the club, Renato Ratier. In addition to Renato Ratier, South American heroine BLANCAh and Serbian-Brazilian duo Duc in Altum will be taking the stage. One of the central slots will be taken by local performers and No Sleep residents, Lag and Monosaccharide. This will be their first joint ever "live" set. In addition, the impressive lineup of the second day of EXIT festival will be completed by the D-Edge club residents, Duc in Altum, a married couple consisting of Eric Frizzo Jonsson and Arjana Vrhovac Jonsson. Both of them were born and raised in Serbia.
No Sleep Novi Sad Stage
Also, EXIT has recently announced the first chapter of the sleepless program of the No Sleep Novi Sad Stage. MMA (Mixed Munich Arts) is located in the engine hall of a former power plant in Munich. It has hosted some of the greatest electronic music artists in the world. On Thursday July 4th, the Mixed Munich Arts No Sleep stage will host some of the most wanted techno performers in the world, including I Hate Models, SHDW & Obscure Shape and Boston 168. They will be joined by the club residents, Black Lotus, Marcella, and Montenegro DJ, Ana Rs.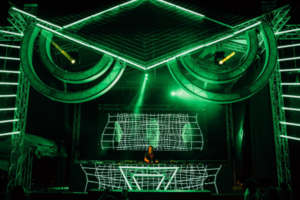 Furthermore, the globally praised stage at EXIT Festival, the colossal Dance Arena has recently completed its most powerful edition to date. Carl Cox announced his return to one of the planet's greatest open-air raves. He was then quickly joined by Paul Kalkbrenner, Amelie Lens, Maceo Plex, Jeff Mills, Charlotte de Witte, Boris Brejcha, Peggy Gou, Dax J, Monika Kruse, Adriatique, Satori, Johannes Brecht among others.
Overall, this festival is not one to miss! Book your travel now and get your tickets today here.
All in all, for more information on EXIT Festival, follow its' socials:
Facebook. Facebook Event. Instagram. Twitter. YouTube.
____________________________________________________________________________________________________________