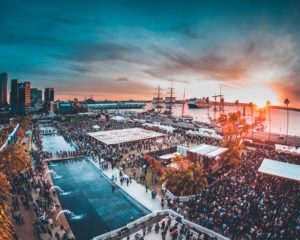 CRSSD Festival, a two-day 21+ electronic music festival held at San Diego's Waterfront Park, is a destination festival-goer's dream. Overlooking the San Diego bay, festival attendees can take in an unique and incredible scenery while dancing to some of the biggest names in EDM. This relatively new festival, dating back to the 2015 FNGRS CRSSD premier, continues to deliver incredibly stacked lineups in addition to local craft beer and mouth-watering food that can only be found in sunny San Diego. Between the location and the lineup, CRSSD Festival is an EDM jewel that is not to be missed.
Location
San Diego, known for its amazing year-round weather, miles of sandy beaches, and phenomenal food and craft beer, is one of the most popular vacation spots in America. If you aren't from San Diego, CRSSD is the perfect excuse to come spend some time in this breath-taking city. San Diego's Waterfront Park is a mere 10 minute drive from the airport and walking distance from many downtown hotels. Once at the festival, you will look out upon a glistening bay with hundreds of boats docked, including the USS Midway, a famous aircraft carrier from WWII. Turn around and you will find the incredible downtown cityscape towering above you. Whether you fancy a stroll down the palm-tree-lined bay or a peak at the famous downtown architecture, San Diego has everything you could want (and much, much more) only a grasp away from the extraordinarily central location of CRSSD.
Lineup
CRSSD has stuck to its roots in maintaining a lineup driven by mostly techno and underground house. With three different stages and more than 35 artists, there is something for everyone. The Ocean View stage is filled with artists who are promised to deliver incredible live sets including Odesza, Phantogram, and Petit Biscuit. The Palms stage features underground house artists including Lane 8 and Armand Van Helden that will have you shuffling all night long. Finally, City Steps brings the techno with artists such as Maetrik (live) and The Martinez Brothers.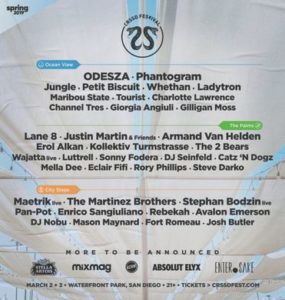 After Parties
With early ending times of 11pm on Saturday and 10pm on Sunday, FNGRS CRSSD knows everyone will want to continue the party once the festival concludes and has come well prepared to do just that. In collaboration with multiple San Diego nightclubs, all only a short walk away such as Bang Bang and Hard Rock, FNGRS CRSSD has made sure that there will be plenty to do once the show ends. With names such as Justin Martin, Whethan, and The Martinez Brothers, you are bound to dance the night (and morning) away at a club of your choice. Too tired from a long day of dancing? Sit down and have a drink with your friends at one of the many bars or breweries located just next door, including Ballast Point and Karl Strauss Brewing Companies. You can even prepare ahead for the fun weekend by seeing Amtrac or Justin Jay on Friday night, or by making a Saturday morning brunch reservation at Kettner Exchange to see Catz 'N Dogz for free. The best part? Anyone can attend these after dark events, not just festival ticket holders!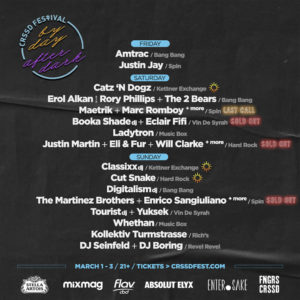 Tickets
With a capacity of 15,000, CRSSD Festival Spring 2019 is already sold out! But don't fret, because the after dark parties aren't…yet. Make sure to get your tickets for those that remain while they last! Don't forget, CRSSD happens twice a year so if you're 21 and up and don't have a ticket for this round, keep your eye out for Fall 2019 as FNGRS CRSSD never fails to deliver an amazing lineup and experience!
Stay connected with CRSSD Festival:
________________________________________________________________________________________________________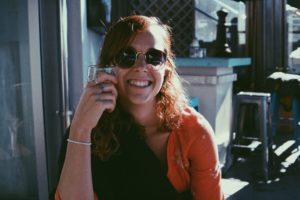 FestPop Staff Writer, Julia Osteen