---
Denver's first ever three-day festival GRANDOOZY, just debuted its full food and drink lineup for the upcoming event. In an effort to create a complete Colorado experience for festivalgoers, the lineup is an impressive list representing some of the best restaurants, food trucks and breweries in the Denver area. Complimentary to its music lineup of over 50 acts, the festival has created three unique food and drink experiences: Devour Denver, Flight School, and Arts + Crafts. GRANDOOZY will take place at Denver's Overland Park on September 14-16.
Devour Denver
Devour Denver is a 30-part lineup featuring Denver's most popular bites, from neighborhood favorites to award-winning cuisine. This incredibly diverse array will surely satisfy every foodie's taste bites.
Behind this project is eight of Denver's leading culinary experts including Snooze AM Bakery Adam Schlegel, Biju's Little Curry Shop owner Biju Thomas, and publisher of Dining Out magazine Jeff Suskin. Devour Denver will offer everything from local healthy favorites to the city's trendiest doughnuts. Adding to this experience, the city's most popular food trucks will also be set up throughout the festival including Super Heady Tacos and Rocky Mountain Slices. VIP ticketholders will get even more, with exclusive happy hours and gourmet fare from the top restaurants in Denver.
Flight School
Led by one of Food & Wine's Best Mixologists of 2016, Denver's own Chad Michael George will be serving up craft beverages for festivalgoers as part of Flight School. Flights range from Smoky Spirits, Rums of the World, Agave Tour, and a Colorado Whiskey Flight. There will also be signature cocktails available a la carte.
Arts + Crafts
Leading the beer component is seasoned marketer of Colorado's craft beer movement, Steve Kurowski. He has curated a lineup of beers from 18 different breweries including 4 Noses Brewing Company and Breckenridge Brewery. See the full food, drink and music lineups below!
---
Lineups
Food + Drink
Devour Denver
Bar Dough (VIP)
Barbed Wire Reef (Food Truck)
Biju's Little Curry Shop (Food Truck)
Brider Rotisserie & Kitchen
Carbon + Habit Doughnut Dispensary
Cocohut
Comal Heritage Food Incubator
Generous Coffee
Highland Tap Burgers (VIP)
Hippie Dips
Illegal Pete's
Mac N' Noodles
Maine Shack (VIP)
Morin (VIP)
OG Burgers (Food Truck)
Peak Pops (Cart)
Rocky Mountain Slices (Food Truck)
Señor Bear (VIP)
Snooze, an AM Eatery
Sol Tribe
Steuben's
STK Denver
Stoney's Bar & Grill
Sugarfire Smoke House
Sunshine Bowls (Food Truck)
Super Heady Tacos
Sweet Cow Ice Cream
Torchy's Tacos
Flight School
Smoky Spirits
R(h)ums of the World
Agave Tour
CO Whiskey Flight
Amaro Flight
Arts + Crafts
4 Noses Brewing
10 Barrel Brewing Co.
Breckenridge Brewery
Denver Beer Company
Elysian Brewing
Four Peaks Brewing Company
Golden Road Brewing
Left Hand Brewing
Lone Tree Brewing
Odell Brewing Company
Oskar Blues Brewery
Platt Park Brewery
Ratio Beerworks
SKA Brewing
Spaten Oktoberfest
Stella Artois
Telluride Brewing Company
Wicked Weed Brewing
Music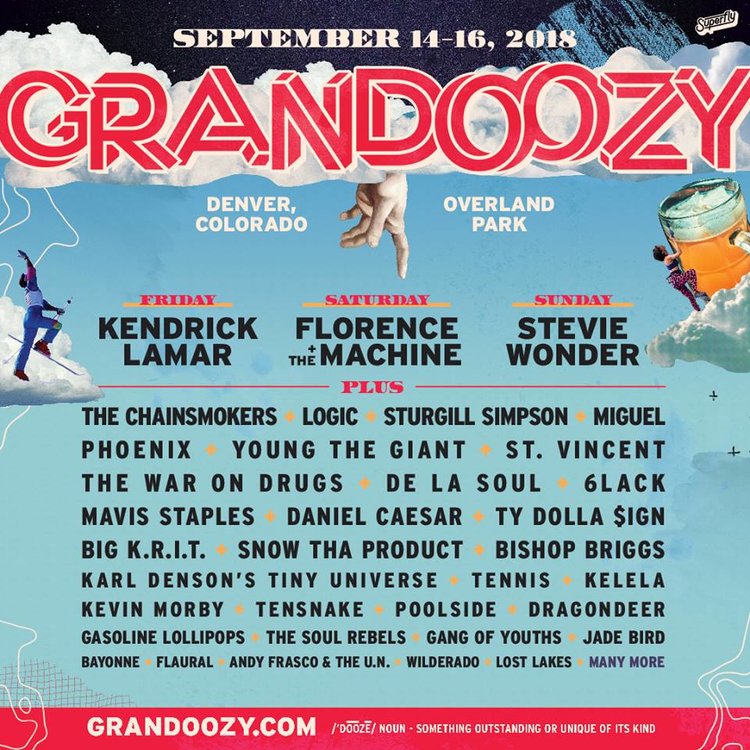 For more information and tickets visit the official GRANDOOZY website!
---