I know many people have been waiting for the full lineup release for Imagine Festival, and so have I. I am happy to say that Imagine has released its full lineup and has announced a fourth day a music! Double whammy!
The festival is going to great depths to ensure that this is the most immersive Imagine Festival yet. Iris Presents has announced that Imagine will be expanding to four days, which will be accompanied by full music programming on the Disco Inferno stage, early arrival camping, and an extra day of fun. Taking place at Atlanta Motor Speedway this September 19-22, 2019, the added day will be free to everyone who purchases a 3-day ticket and available for a limited time until August 15th. Imagine has also unveiled the full lineup, in addition to several other big announcements, including a brand new stage- TechYes / Guerrilla 360 and a Saturday pool party.
Lineup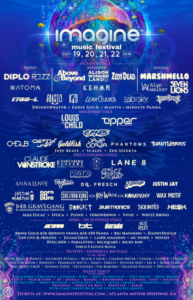 More Imagine More Fun
In addition to music pulsing throughout the festival, Imagine has partnered with Beatbox Beverages to host a Vegas-style daytime pool party. All festival-goers are invited to the Saturday party and can add the pool party to their ticket.  VIP campers will automatically have the pool party included as a part of their pass.  DJs for the pool party will be announced in the coming weeks.
Finally, for those Imaginers looking to get a head start on the week, Imagine is opening up the camping grounds for early arrival on Thursday, September 19th.  Early arrival camping passes can be purchased as a part of a 4-day combo pass. Also they can be an add-on for those who already purchased their camping passes for Friday through Sunday.
Tickets will sell fast for Imagine! Get your tickets online now!
How FestPop Can Help You
Need help booking your airfare and accommodations for the festival? Look no further! FestPop now offers assistance in getting you to the festival of your dreams. Just search the festival you want to attend on FestPop and let the booking begin!
All in all, for more information on Imagine Festival follow its' socials:
Facebook. Instagram. Twitter. YouTube.
____________________________________________________________________________________________________________