Altus Festival has announced the phase two lineup for their inaugural event March 18-21 in South Lake Tahoe. Phase two reinforces Altus' commitment to combining world-class talent with vibrant underground community collectives for an adventure-filled mountain festival.
The Festival
Altus Festival aims to create a new home for forward-thinking electronic music fans amongst the natural beauty and luxury accommodations that Lake Tahoe is famous for. Snowboard on the famous Heavenly Mountain Resort, the only resort in North American to span across two states. Dance your butt off to the likes of Justin Martin and Bonobo. And, stay in some of the nicest lodging Tahoe has to offer!
Check out more info on Altus Festival and see the phase one lineup here!
Altus Phase Two Lineup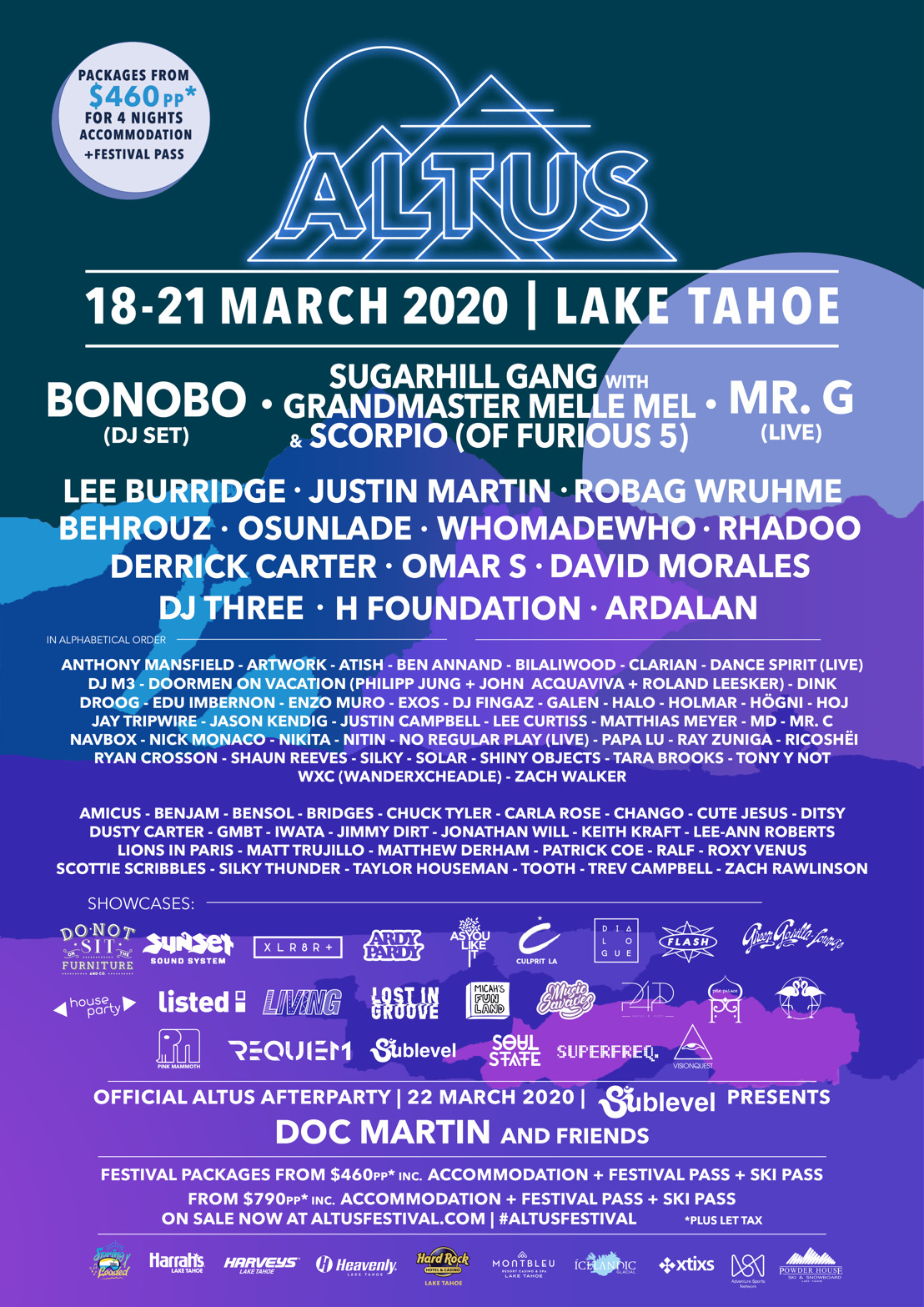 Tickets
Festival packages start at $790 per person. These include ski passes, logging, and music tickets. You can also buy just festival tickets by themselves for cheaper. VIP packages are available which include fast track entry, priority access to table service, special discounts and speciality areas. Alternatively, volunteer and ambassador opportunities are available.
In addition to these options, Altus has partnered with Powder House to offer exclusive ski and snowboard rental deals to festival-goers, including 35% off rentals and 10% off select retail items.
Need help getting to Altus? Festpop can save you money on your travel needs to help you get to the festival of your dreams. Visit our site for discountson rental cars, flights, and hotels! And don't forget to use #PoweredByFestpop on your photos for a chance to be featured and win some awesome prizes.
Craving a different type of festival experience? Check out the Lighting In A Bottle Lineup for this May!
Stay Connected with Altus:

______________________________________________________________________________
FestPop Staff Writer, Julia Osteen