Quick! Grab all your homies and make your way to the heart of downtown Los Angeles on August 17-18th for a music festival like you've never experienced before.   Former creator of HARD Music festival, Gary Richards (aka Destructo), announced ALL MY FRIEND's inaugural festival at the new ROW DTLA creative space and shopping district. Three stages spread across rooftops, urban backdrops and industrial skylines to make one of the coolest city-scapes to feast your eyes on.  This former produce market has been redesigned with a lush landscape that blends the old and new, with the past and present architecture in the Art's District.  Surrounding the festival grounds are shops and restaurants galore, tagged with unbelievable murals painted by the local artists to portray LA's cultural and creative essence.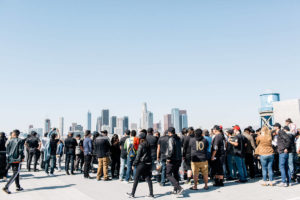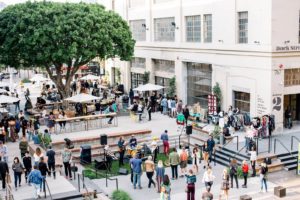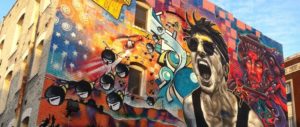 Not only are diehard festival goers captivated by this unlikely and unique venue, but also by the interstellar lineup of talented DJs, next-level producers, beautiful singers, and hip-hop legends.  Richard's wide-ranging taste in music has created a universal festival that caters to music lovers of all ages, while highlighting the bridge between hip hop/R&B and dance music. So keep your rave kandi at home kids! This event is channeling far more live music than the typical rave scene and is geared for the HARD fest fan whose tastes has evolved over the years.  Some of the headliners include RL Grime, Jhene Aiko, M.I.A., Gucci Mane, Jamie xx, Armand Van Helden, Anna Lunoe and of course Destructo (aka the creative genius behind this event).  Some other crowd favorites include Chris Lake, Claptone, Deux Twins, Soul Clap, Yo Gotti, Grandson and special guest, Justin Martin.
While typical festivals nurture over 150,000 guests, All My Friends plans to house a more intimate scene of about 15,000 to 20,000 fans over the course of the weekend. Dreading the DTLA parking nightmare? Fear not! ROW DTLA has one of the largest parking garages that can cater to Angelenos and visitors from across the globe.  But if you plan on indulging in an AMF while at AMF (All My Friends) then ridesharing services are always the best way to travel.  Early bird tickets have long sold out, but it's not too late to avoid that FOMO feeling by snagging a 2-Day Friend Pass or a 2-Day VIP Friends with Benefits Pass. Tickets are on sale here!
How could I forget one of the best festival announcements out there? Their incredibly shareable "Golden Girls" parody announced this year's rockstar lineup and grabbed the attention of festival goers, their friends, parents and grandparents, alike! Not to mention, it was sung by Miss Anna Lunoe herself (who will make her appearance on Saturday's lineup). Check out this hilarious teaser for yourself!
So round up your favorite friends or simply make some there… It's time for you to see what all the hype is about!  All My Friends is not just any other music festival; it is a time and opportunity to gather amongst friends who feel more like family and relinquish in two days of pure rhythmic bliss under the SoCal sun.
"I think about all the friends I've made and how I am a part of their story.  They are more than All my Friends, they are All My Family." – Gary Richards aka Destructo
________________________________________________________________________________________________
All My Friends Festival 2018 @ The Row DTLA
ALL MY FRIEND's inaugural festival will be situated in the heart of downtown Los Angeles at ROW DTLA creative space and shopping district. Its industrial backdrop of Los Angeles' former major produce market updated with gardens, shade trees and plazas makes a unique location for the festival. Outside festival grounds, fans can take in shopping, restaurants and 30,000 square feet of incredible murals painted by local artists throughout the facility
Starts: 08/19/2018
Ends: 08/20/2018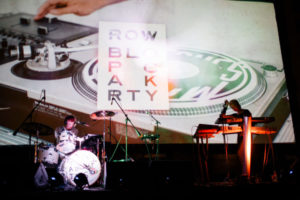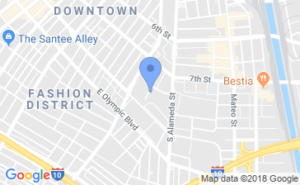 ________________________________________________________________________________________________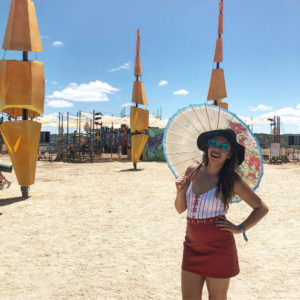 Fest Pop Staff Writer, Breann Lange