Drumcode Festival has recently announced the first phase lineup for 2019's edition. Following on from an outstanding sold out debut year, Drumcode Festival returns on Saturday 24th and Sunday 25th of August. Fans will get to return for another year at the NDSM docklands in Amsterdam.
Drumcode Festival 2019
Adam Beyer, the acclaimed Swedish techno DJ, and legendary Dutch brand Awakenings will team up once again for the second edition of Drumcode Festival. For more than the past 20 years, Awakenings have been renowned for their impressive production and attention to detail. They will be bringing their years of experience into the collaboration with Drumcode founder Adam Beyer. Festival-goers can be sure that Drumcode Festival will be an unrivalled success once again.
Phase One Lineup
This year the festival will once again showcase a broad spectrum of Techno. Adam Beyer will welcome the likes of Alan Fitzpatrick, ANNA, Charlotte de Witte, Reinier Zonneveld and Sam Paganini to the festival for the first time. Returning favourites Amelie Lens, Enrico Sangiuliano, Ida Engberg and Ilario Alicante will also play. Awakenings resident Joris Voorn will also feature at this years edition, with Awakenings inviting Joris Voorn to ensure that the lineup becomes even more diverse. See below for Saturday and Sunday Artist Phase One Lineup.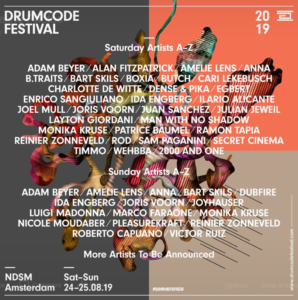 Last year Drumcode Festival attracted people from over 62 countries around the world and Saturday 24th August we see over 15,000 visitors descend upon Amsterdam once again. Get your tickets now before it's too late!
All in all, for more information on Drumcode Festival, follow its' socials:
_________________________________________________________________________________________________________________