If you're looking for a venue that's a bit outside the ordinary, we have one for you. If you're looking for a musical experience that's a bit outside the ordinary, well…we have that too.
Tale of Us, a DJ duo from Milan will be bringing back Afterlife and performing their unique brand of transcendent techno at the highly immersive Brooklyn Mirage in East Williamsburg, NY this summer. The Brooklyn Mirage, part of the Avant Gardner event complex, and a decorated courtyard with thousands of plants, elevated towers with breathtaking views, and modular staging will keep your eyes and body in motion all night long. The space is widely regarded as one of the most impressive entertainment spaces in all of New York and boasts 270 degrees of mesmerizing visuals set to pyrotechnics and crisp KV2 sound quality.
Afterlife is not only a Tale of Us' record label, it is also the name of their intensely captivating event concept that, in their words, is "an Odyssey through the realm of consciousness." The duo will be joined by the familiar faces of  Âme and Mano Le Tough as well as two of their label's finest acts, Mathame and Denis Horvat. Doing the honors of opening will be Return, who is sure to set up the day into night event perfectly from the moment he takes the stage.
Within the walls of Avant Garnder you will find yourself standing in awe of the Great Hall. The Great Hall is everything you could hope for in a quintessential Brooklyn warehouse. The industrial aesthetic will be palpable as steel beam line the heavily lighted ceilings and brick walls add texture to the expansive dance floor. Ben Klock will lead the indoor soundtrack of the night as he plays alongside the ever-innovative techno artists Chris Liebing, FJAAK and Courtesy. For those looking to slip into a different headspace, Etapp Kyle and Vaal will be there to deliver their interpretation of deep techno vibes.
Afterlife- a gate to the unknown will not be your typical concert. Be sure to go into this event with an open mind and be prepared to embrace the wonderful experiences that await you. As a supplement to the spellbinding sounds of the aforementioned artists, Plusyes will curate one of a kind visuals for the Brooklyn Mirage as Tirador does the same in the Great Hall. If that was not enough, Tale of Us will be curating an interactive performance withacclaimed, contemporary visual artist Quayola whose work is sure to add an additional mind-boggling layer to an already stunning show.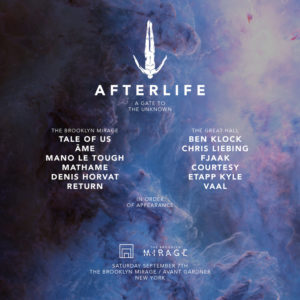 The event will be held on September 7th, 2019 and will keep you dancing from 6pm to 4:30am. Tickets are on sale now and can be purchased through Resident Advisor here.
Tickets are selling fast though and will only get more expensive as the event nears closer. If you're ready to take a trip to another dimension, we recommend you make arrangements ASAP!
---