[youtube https://www.youtube.com/watch?v=yiZqjFJQSpk]
Just when you thought festival season was over, we have the snowiest festival coming up at the end of December. SnowGlobe Music Festival is making its way back to Lake Tahoe, CA on December 29 to December 31 at The Community Play Fields. Although it may be cold, it's definitely a great way to close out the year with EDM music and a group of friends.
It is safe to say that this year's lineup looks like one of the best the festival has had yet. Surrounded by snow, attendees can enjoy some of the biggest names in electronic dance music. The headliners this year include Above & Beyond, Diplo, Eric Prydz, Rezz and RL Grime, but that is just the start. From Big Gigantic to Chris Lake to NGHTMARE b2b Slander, festival goers will get a taste of every style of EDM to exist.
Day by Day Lineup
December 29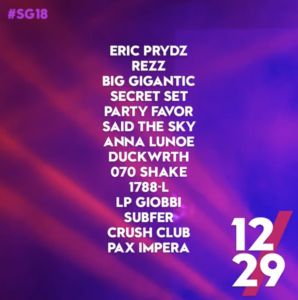 December 30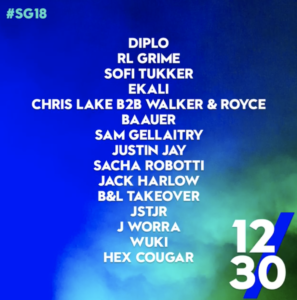 December 31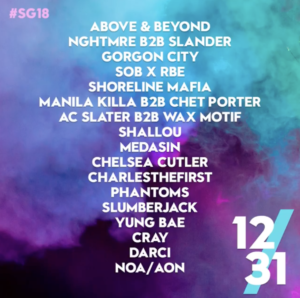 Tickets
Tickets are on sale and selling fast so buy them here now. Ticket sales will end on December 29, 2018. Here are the ticket types still available:
3-Day Tickets
Last Chance 3-Day GA: $219 + fees
Last Chance 3-Day GA + Shuttle: $259 + fees
Last Chance 3-Day VIP: $499 + fees
Single Day Tickets
12/29 GA (includes shuttle): $109 + fees
12/29 VIP (includes shuttle): $149 + fees
12/30 GA (includes shuttle): $109 + fees
12/30 VIP (includes shuttle): $149 + fees
12/31 Last Chance GA (includes shuttle): $129 + fees
12/31 VIP (includes shuttle): $179 + fees
Lockers
Festival-goers can purchase lockers to store items throughout the 3-day festival. The locker dimensions are: 11" wide, 13 ½" high, and 18" deep. You can visit your locker as much as you want throughout festival hours. If you purchase a multi-day locker rental you can leave your items in your locker overnight! Please note they do not
Prices
3-day locker: $50 + fees
12/29 locker: $20 + fees
12/30 locker: $20 + fees
12/31 locker: $20 + fees*
After pre-purchasing your locker below, you will receive an email 48 hours prior to the event containing your locker location, locker #, and lock combination ms overnight.
Accommodations
Looking for a place to stay? SnowGlobe has you covered. Hotels are available in South Tahoe, North Tahoe, Reno and Carson City. Check out their travel packages here including discounted rates!
For further announcements regarding SnowGlobe Music Festival 2018 check out their social pages:
You can also subscribe to their E-list for the latest and greatest news about the festival. Subscribe for lineup announcements, ticket sale updates and exclusive offers!