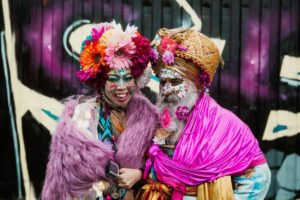 Secret Solstice, the world's most unique music festival held over the Midnight Sun weekend, has revealed the phase one lineup for its sixth edition in the land of fire and ice this June 21-23, 2019 in Reykjavik, Iceland. Performing across the 72-hours of non-stop daylight during the summer solstice weekend for the first time ever, Secret Solstice presents Robert Plant & the Sensational Shape Shifters, Martin Garrix, and Rita Ora as festival headliners across its three days in the capital city. Featuring 40 acts across dance music, electronica, hip hop, pop, and rock including Boy Pablo, Foreign Beggars, Kerri Chandler, Morcheeba, MK, Pussy Riot, and many more, attendees will have the opportunity to experience a one-of-a-kind festival while admiring the natural beauty of Iceland.
Secret Solstice
Secret Solstice is Iceland's music and culture festival held under the Midnight Sun, born from a desire to create a unique and unmissable musical experience. It is not your standard festival and by combining and highlighting music with distinctly Icelandic characteristics, Secret Solstice pushes boundaries to provide that extra special offering to their diverse and adventurous audience. From the world's only rave in a glacier cave to intimate performances in a 5000 year old lava tunnel, Secret Solstice shares the natural beauty and culture of Iceland to create a music experience unlike any other.
For five years, Secret Solstice has brought together diverse lineups featuring powerhouse and emerging acts, exclusive glacier and lava tunnel parties, and a luxury music festival experience. Bringing forward-thinking and world renowned artists to Iceland, Secret Solstice has become a platform for discovering the next generation of talent for international success. Catering to adventure and destination festival-goers with a passion for the outdoors and exploration of Iceland's otherworldly landscapes, Secret Solstice is a must-attend event this summer. 
Phase One Lineup
Kicking off the festivities, Dutch dance music crossover superstar Martin Garrix will headline Secret Solstice's Valhalla main stage on Friday, June 21.  Also performing on opening day will be British singer-songwriter Rita Ora, who released her sophomore album 'Phoenix' to much acclaim at the end of 2018. Although Saturday contains a to-be-announced headliner, Sunday, June 23, will bring one of the biggest and most iconic voices in rock to Iceland as the grand finale. Robert Plant, the former lead singer and writer of legendary band Led Zeppelin, will perform with long-time collaborators The Sensational Space Shifters.
Also performing across the 72-hours of non-stop daylight during the summer solstice weekend will be an eclectic collection of top international and local Icelandic acts. Festival-goers can look forward to appearances from Norwegian rising indie act Boy Pablo, the return of UK electronic hip hop group Foreign Beggars and house music icon Kerri Chandler, Parisian crate-digger Jeremy Underground, the Icelandic debut of dance music legend Mr. G (LIVE) and Area10 labelhead, hitmaker MK (Marc Kinchen), downtempo groovers Morcheeba, Russian punk rock group Pussy Riot and more. Rounding out the dance music lineup will be Second State techno signees Chris Hirose and Clint Stewart, No.19 Music co-head Nitin, Los Angeles' Ricoshëi, Berlin tech duo Smash TV along with ALXJ, Dilivius Lenni, Monello, and Vom Feisten.
On the local front, rap supergroup XXX Rottweiler will return to Secret Solstice for an exclusive performance plus sets from contemporary singer and composer Högni, jazz/electronica fusion artist Ari Árelíus, singer-songwriters Auður and Svala, Captain Syrup, electro-pop duo ClubDub, house and techno DJs Bensol, Exos, Ingi Bauer, Jóhann Stone, KrBear, Mike The Jacket, Oktav DJ, Vibes. Also performing will be rock outfit Pink Street Boys, dance act Rokky, rap performers Séra Bjössi, Sprite Zero Klan, and Ragga Holm of the award winning Reykjavikdaetur.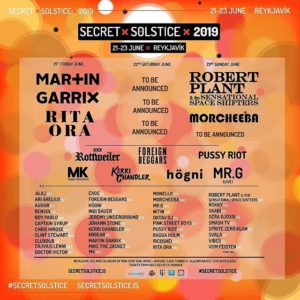 Tickets
Early Bird and VIP Weekend passes for Secret Solstice 2019 are available now from $133 USD while supplies last and VIP passes are available from $250 USD. New for 2019, Weekend Youth passes for attendees 13-17 years old are available from $83 USD. Children up to 12 years old are given free entry. Additionally, Adult Day passes can be purchased for $91 USD.
For the high-end festival experience, Secret Solstice offers its limited availability luxury pass, Oðinn with added perks and amenities such as Oðinn only pop-up lounge and viewing area, fast track, priority entry, backstage access, limited edition commemorative Óðinn festival pack, complimentary food and drinks at the festival, exclusive side event discounts plus more perks to be announced. Secret Solstice even offers Icelandic tour packages on their website!
Grab your passes and much more on their website. Don't forget to to stay tuned for the phase two announcement coming soon!
Stay connected with Secret Solstice:
SnapChat: SecretSolstice
_________________________________________________________________________________________________________________________