Lollapalooza 2019 tickets officially went on sale yesterday. In comparison to recent years Lolla has not sold out in minutes or hours like it used to. Why? Well, this can be attributed to the price increase over time. No, Lolla doesn't have a bad line up or is loosing popularity but, it truly saw the value of the festival. With that being said, be sure to snag your Lolla tickets ASAP. It WILL sell out!
Now, let's get down to the nitty gritty. Everyone consistently speculates who they think will be on the line-up. There always is the hope that one day Kanye and or Daft Punk will appear but, that would only be in our dreams. Lolla always promises the biggest names in the industry, the biggest up and coming artists, and new discoveries you will listen to on repeat after the festival. While other big name festivals like Coachella and Bonnaroo don't drop hints, Lolla is all about the clues.
This year the festival took 2 different approaches to revealing artists. During the past 7 days, leading up to ticket sales, Lolla posted videos to their IG story which would reveal a photo of an artist on the lineup. Let me tell you they all were not easy to see but, reveal some big names coming to Grant Park. Alesso, Normani, Idles, Hayley Kiyoko, Smino, and Crizzly will be playing Lollapalooza 2019 and this is just the beginning.
Yesterday, after tickets went on sale, Lollapalooza the cryptic photo of a dog painted with the Chicago flag telling all followers to check out Youtube at 2PM CT. If you took the short cut on their instagram story it revealed a video sharing the PAWS Chicago and Lollapalooza partnership. The two teamed up to help puppies available for adoption get exposure as they revealed clues and pictures of Lolla 2019 artists. Check out the video below!
Now if you just want to know who got revealed in this video, here is the official list we have deciphered (in order of reveal).
Chelsea Cutler
Lil Wayne
Slash
Pink Sweat$
Svdden Death
Calpurnia
Janelle Monae
Louis the Child
J Balvin
AJR
Lil Skies
Madeon
Gunna
Fisher
Yaeji
Lil Baby
Rosalia
Rufus Du Sol
Tenacious D
Tame Impala
W-O-W! Among these 20 artists are some BIG A-listers. There were quite a few fake lineups circulating that did not include many artists listed above. Let's say this, you can't believe every lineup claiming to be "real".
Based on this information we have 27 artist confirmed for Lollapalooza 2019. Well, 28 if you include the "rumor" that Ariana Grande will be headlining according to Variety (article HERE). Others also speculated that Flume will be playing based on the music in the Summer Is Coming – Lollapalooza 2019 video. You can decide after watching the video (side note, if you Shazam the song it is unidentifiable and Flume did just announce a new mixtape). Let's just say the stars seem to be aligning very well.
.
Another Summer is Coming – Lollapalooza 2019 video was released a week ago with what sounds like a remix of rapper Nate Rose's song Ohhh Lord. Could this be another clue or just another great marketing tactic to get all Lolla enthusiasts excited?
Well, you needed to wait no longer than 8AM CT this morning. Lollapalooza officially released its 2019 lineup and let's just say WE ARE IMPRESSED! This year there are many returning acts from 2014, 2015, and 2016. Headliners this year include Ariana Grande, Childish Gambino, Twenty One Pilots, The Strokes, Tame Impala, Flume, The Chainsmokers, and J Balvin. The lineup in general goes deep and we are so pleased to see returning acts, Grammy winners, Chicago natives, and even NBA stars. Check out the full lineup below.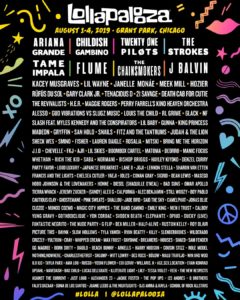 Now that the hottest summer festival line up has been released you may want to purchase your tickets (HERE) today! Hopefully we'll catch you dancing with us at Lolla 2019 Grant Park August 1-4.
---
---