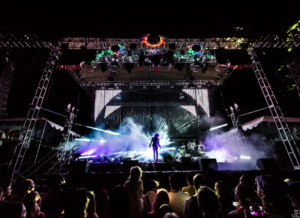 Meow Wolf, an arts and entertainment group based in Santa Fe, New Mexico, has released its lineup for Taos Vortex. This festival not only is a haven for huge electronic acts such as ZHU, Flying Lotus, and Lykke Li, but has also has become a staple for a fully interactive festival experience with unforgettable art installations and live performances. Held August 6-18 in Taos, New Mexico, this immersive three-day festival is not one to miss.
Taos Vortex
The Experience
Taos Vortex's immersive environment centers around the diverse neighborhoods and creatures that inhabit them. Huts and homes installed around the park invite everyone to step inside, find the neighborhood that suits them, and celebrate the multidimensional weekend of the summer. Max B.K, Events Director for Meow Wolf, said, "We look forward to returning to Taos in support of their local economy and have a weekend lineup of musical artists that share in the sense of adventure." The musical focal points will happen on two stages, The Spire and The Glade. The Spire stage is a citadel to inspire awe and wonder, a stage created for performers to play for their fans. The Glade is a meadow for people to hang out in and be a part of the show, offering a casual and intimate habitat.
Location
Located in historic Kit Carson Park, Taos Vortex is just steps away from the Taos Plaza and Historic District and all of its dining and accommodation amenities. Offsite, Meow Wolf encourages participants to explore the beauty of Taos by floating down the Rio Grande to the hand-sculpted RaPaulette Cave, hot air ballooning above the Taos Gorge, and learning about the medicinal use of sage on the Taos Pueblo.
Returning for Year Two
Returning for its second edition, Meow Wolf plans to generously expand the festival's offerings to a grand total of 35 artists, an entirely additional day of fun (three days in total now), and an experience that will nock your socks off. Just last year Taos Vortex-goers saw a roaming 20-foot gorilla and peacock navigating Kit Carson Park, a seven-eyed jaguar, a laser harp hut, and a gummy bear pyramid. Late night entertainment came from group Pussy Power House, who enthralled guests with an herbal bar and "pleasure stacking" station. Not only are they returning for year two, but Meow Wolf has entertainment plans that will leave even the most skeptical dazzled.
Lineup
Meow Wolf is delighted to be hosting the groundbreaking Flying Lotus 3D show, the iconic P-funk ringleader George Clinton, the fierce talent of Empress Of, and sibling freak folk from CocoRosie. They'll also have performances from our favorite electronic stars, including the incredible Reggie Watts/John Tejada live project, Wajatta, electronic mysticism from Zhu, takeovers from the Desert Hearts and Soulection crews, booty-shakin' house from DIRTYBIRD ring leader Claude VonStroke, and the genre-destroying Mija.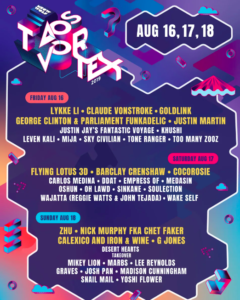 Tickets
Passes may be purchased for the entire 3-day weekend event or for single day attendance. Meow Wolf anticipates that this year the event will be highly attended after the "early bird" tickets for the full weekend were completely sold out in just five hours.
Additionally, on-site camping is available, located on grassy and flat baseball fields beneath trees planted by the entrepreneur and swindler, Arthur Manby, whose headless body is buried in the park's cemetery. Each campsite has a communal tent for late-night discussions, along with a camp brunch to recount the evening's fun over burritos.
Get your tickets before they sell out!!
[youtube https://www.youtube.com/watch?v=ZYL5tWDEf74&w=660&h=315]
Stay connected with Meow Wolf:
________________________________________________________________________________________________________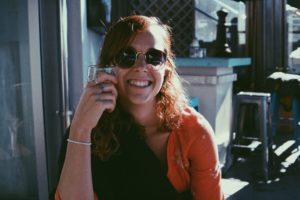 FestPop Staff Writer, Julia Osteen