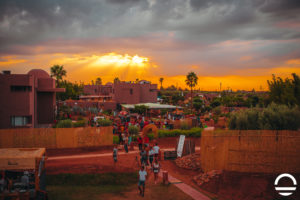 Oasis Festival, the firmly established premier electronic music festival of North America, has revealed its phase two lineup for its fifth edition in the dazzling city of Marrakech, Morocco this September 13-15, 2019. Bolstering an already impressive line-up, Oasis will bring Seth Troxler, Amelie Lens, Recondite (live), and many more to the stage in addition to a host of festival debuts and mainstays of the Moroccan underground scene.
Oasis Festival
Oasis Festival is a unique experience that marries music, arts, and culture with a world-class line-up in the ancient city of Marrakech. Set against the stunning backdrop of Morocco's High Atlas Mountains, the intimate destination festival plays out in a party paradise of tropical gardens, palm trees, cacti and swimming pools. With three stages, daily yoga, the finest local cuisine and a cultural program that offers plenty of opportunities to explore and soak up the vast history, arts and culture of the region, Oasis is an utterly authentic North-African holiday experience.
Founded in 2015, Oasis Festival welcomes the worlds' biggest DJs and live acts to Morocco, many for the first time, as well as showcasing a wealth of regional talent. Located in the Red City of Marrakech, Oasis sits at the alluring cultural intersection between Southern Europe, Northern Africa, and the Middle-East. Tucked away in the festival's secluded enclaves are lush champagne and cocktail bars, a spa, hookah lounge, and a wide variety of culinary delights from some of the best restaurants in Marrakech. The festival's carefully curated program has brought international attention not only for its combination of well-known and local music acts, but also for its non-musical program that gives a taste of the incredible culture that lies beyond the festival.
Lineup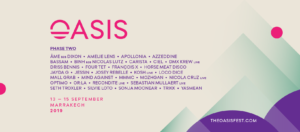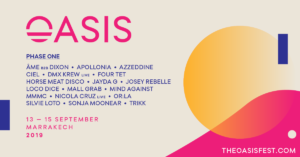 On top of the first wave of names, including Four Tet, Dixon B2B Âme, Sonja Moonear, Apollonia, Mall Grab, Loco Dice, Jayda G, Oasis has promised a second round of exciting and diverse artists. Detroit innovator Seth Troxler, Belgian breakout techno star Amelie Lens, and master of techno melancholy, Recondite lead the latest additions to this impressive lineup. You can expect spaced out breakbeats in a special back to back between deep diggers BINH and Nicholas Lutz, plus immersive dub soundtracks from the masterful Sebastian Mullaert playing one of his spellbinding live sets.
In addition, plenty of local grooves will be delievered from returning favorites Driss Bennis, who runs vital house, electro and techno label Casa Voyager and Bassam, a minimal maestro known for slick releases on Perlon and Le Renard Records. Casablancan DJs Yasmean and Jessin also bring plenty of earthy local flavors.
A live show from Kosh will serve up a fusion of ambient and dub, downtempo and drum & bass, whilst Parisian selector and DEMENT3D label-head François X brings warm house sounds in abundance. Elsewhere, Iranian born Mozhgan will be on hand to serve up her dark and mysterious contemporary club sounds, and Dutch Red Light Radio hosts Carista connect the dots between bass, soul, hip hop and tech.
Find Your Oasis: Vitamin Sea
In addition to the carefully curated mix of arts, culture, and world­ class DJs, Oasis is offering a pre-festival surf trip Find Your Oasis: Vitamin Sea . This opportunity gives you a chance to hang out at world famous surf heaven Anchor Point in Morocco. Center yourself with beachside yoga practice and soak in the stunning beauty of the Atlantic Ocean before you cut loose and party under the hot sun and glowing stars at Oasis Festival in the shadows of the Atlas Mountains. You will stay in The Yogi Surfer, perched on the top of a small hill in the bay of Taghazout above banana plantations and long sandy beaches that guarantee you an unforgettable time.
Tickets
With a range of ticket options available, including pocket-friendly group offers, spread-the-cost payment plans, and a range of hotel packages, there's plenty of ways to plan your trip to Oasis. Tier 2 Weekend Passes start at €180 but can cost as little as €150 if you purchase the group package of 6 tickets. There are a multitude of additional packages available when it comes to hotels and extra amenities that are worth checking out if you are traveling from afar.
Grab your passes and much more on Oasis Festival's Website and don't forget to stay tuned for the next phase of announcements!
Stay connected with Oasis Festival:
________________________________________________________________________________________________________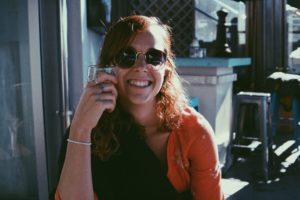 FestPop Staff Writer, Julia Osteen