Typically, we think of festival season as May, June, July, and August. We associate festivals with summer because many have a break from school, and people are itching to travel.
Those times are long gone.
Fall is the new summer and it is packed with major music festivals.
Don't get me wrong, I still enjoy many summer festivals but, there's been a noticable shift in the music industry. Specifically this year, as I found myself gravitating more toward events happening in September and October. I may have always been this way but very rarely did I attend many festivals outside of the summer months. As I have gotten older, I've grown more interested in trying new festivals and traveling elsewhere, so maybe that's why.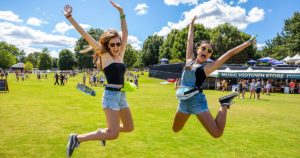 Photo Courtesy of Music Midtown Official Facebook
Regardless, we need to highlight one particular fall festival that may not be on your radar just yet. And what better place for it then Atlanta?
Atlanta has evolving for years now and it's starting to feel like the new L.A. You can get everything you want in Atlanta from music to art to film and beyond. Believe it or not, some of the biggest up and coming festivals are hosted in the ATL.  Have you heard of Music Midtown? Well, you might want to consider it after the lineup they recently announced.
The two day festival announced their stellar lineup of artists and it is refreshing to see something that isn't overloaded with EDM.
Did I say that out-loud?
Yes, I did. Don't get me wrong I love dance music but sometimes I need a break. Unlike some fans I do not just listen to one genre of music. Maybe this is why my favorite festival is Lollapalooza but I like to have variety, can you blame a girl?
If you're like me and want to get your fill of rock, rap, and pop, check out the Midtown Music lineup below.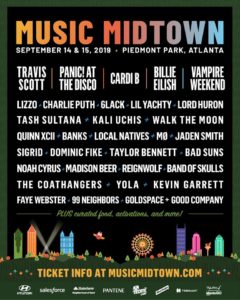 Photo Courtesy of Music Midtown Official Facebook
OKUUUUURRRRRR! This list is HOT! I screamed at the fact that Travis Scott, Billie Eilish, Cardi B, Lizzo, and Tash Sultana would all be performing at the exact same festival. I was late to the Lizzo and Billie Eilish game so I missed them last year at Lolla. Since then, I have been on a chase to catch these two headstrong ladies somewhere, let at alone at the same festival. If you are solely going for EDM music, please stay at home and wait until Imagine the following weekend. I am not trying to be rude, but in my experience too many attendees are only there for dance music and this line-up has absolutely no D's on it.
Now the question is, does the lack of EDM artist hurt Music Midtown?
ABSOLUTELY  NOT!
In years past we have seen some artists who have toed the line of EDM like Choromeo but this is not the festival's focus. Midtown is all about bringing together the culture of Atlanta with the hottest artists for two days filled with fun.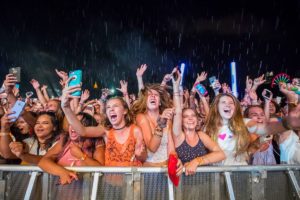 Photo Courtesy of Music Midtown Official Facebook
Do not expect to go to this festival seeing Ariana Grande or Beyonce because it's not going to happen. Music Midtown is geared toward bringing in a few big name artists with a healthy dose of rising talent. The festival gives you a mix of performers so you can get a taste of who's going to be the next headliners of Coachella like Madison Beer, Kali Uchis, Quinn XCII, and 6LACK.  
Take the time to enjoy a relaxing fall festival filled with food, art, and music.  Tickets start at $155 for two days. Of course you have your typical GA+, VIP, and Super VIP options if you have the budget.
All tickets can be purchased HERE. Music Midtown only happens once and if you don't catch it this year you have to wait another 365 days until 2020.