Noisily Festival of Music & Arts is on the horizon! After all, the days are getting longer and summer draws ever nearer, and the much loved cultural gathering reveals more of its world class headliners for July 11th – 14th 2019.
A cutting edge cross section of names from the worlds of underground house, Dub, Bass, Disco, Techno, Psy Trance and plenty in between, will be joining us at Noisily this year. They are represented by the likes of Alex Stein, Eelke Kleijn, Gaudium, John Monkman, Kliment, Öona Dahl, Opiuo, Plasmotek, Spoonbill, Township Rebellion, WAIO and many more. Equally important are the already announced Extrawelt, Mad Professor, LTJ Bukem & MC Ruthless, Icicle, vertical, Captain Hook and S.P.Y.
With the full lineup being released, it's time for you to get your tickets! Lock in your ticket here.
Noisily Festival
With a continued focus on wellness, education, creativity and environmentalism, Noisily plays out in the beautiful Coney Woods in Leicestershire, at the heart of rural England. Also, there will be a balanced mix of music across the three stunning main stages- Noisily, Liquid and Treehouse. In addition, there will be a host of micro-venues, as well as talks, panels, discussions and healing practices in the Mind Body Soul area. At Noisily, there really is something for everyone this July.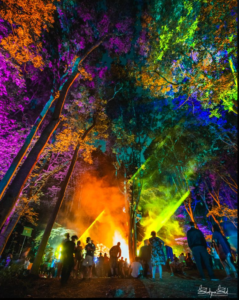 Furthermore, the festival site is a simply stunning woodland, adorned with artwork. It is brought to life by performance, music, and the all important Noisily Family who journey to Leicestershire each July.
Moreover, the core pillars upon which Noisily is built are…
Inclusion – The Environment – Education & Wellness – Community – Creativity
Lineup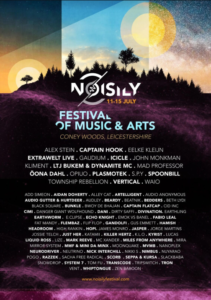 All in all, for more information on Noisily Festival, follow its' socials:
Facebook. Instagram. Twitter. YouTube.
___________________________________________________________________________________________________________