The first round lineup is finally here for Imagine Festival. Fans have been waiting since the glimpse into Chapter Six of the aquatic fairytale, with the release of the theme for Imagine 2019- "What Lies Deep at the Bottom of the Ocean". This year features a series of mind-blowing headliners, as well as talent that underscores the depth of this annual announcement. Fans are once again invited back to this aquatic mecca September 20-22, 2019. Headlining artists joining previously announced Seven Lions, include: Diplo; REZZ; Above & Beyond; Alison Wonderland; Zeds Dead and Marshmello. With still more headliners to be announced, this initial collection of top tier names are joined by over 30 additional artists.
Imagine 2019
Imagine's immersive aquatic fairytale will permeate all areas of the festival. There will be four main stages, with more stages and artists to be announced. Fans can follow their fairytales from the infield to deep into the early morning in the camping areas. View the full phase one lineup below.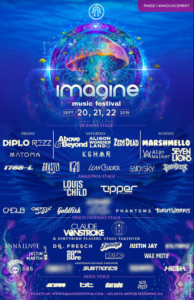 "Finally we are able to let the cat out of the bag and show our fans what has taken many months to curate," says Iris Presents founders Glenn and Madeleine Goodhand. "Each year we challenge ourselves to top the previous lineup and that is proving to be more and more difficult. We are thrilled with the initial lineup and have many more gems to reveal over the next few months."
Imagine continues to further evolve embracing the aquatic theme that has been its hallmark over the past six years.
Get your tickets before prices increase here. Ticket options include GA, Camping, and VIP passes.
All in all, for more information on Imagine follow its' socials:
Facebook. Twitter. Instagram. YouTube.
____________________________________________________________________________________________________________