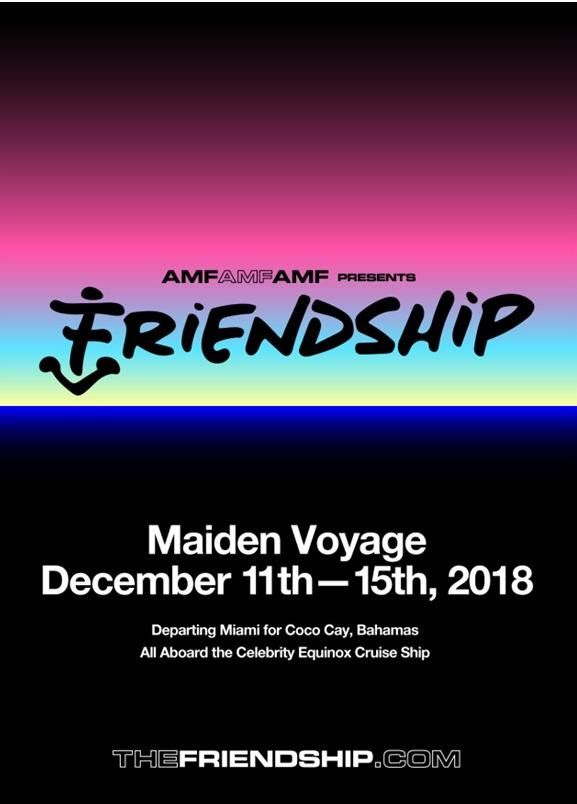 ---
AMFAMFAMF PRESENTS  NEW CELEBRITY MUSIC CRUISE
FRIENDSHIP
DECEMBER 11-15, 2018 

FROM MIAMI TO THE BAHAMAS
---
---
All aboard the Celebrity Equinox for a brand new
FRIENDSHIP
Cruise presented by
AMFAMFAMF
between the
December 11th to the 15th 2018
. Organised by
DESTRUCTO
also known
Gary Richards
(the founder of HOLY SHIP) this four-night
cruise
will begin in
Miami
and sail away guests to two private island beach parties in
Coco Cay, Bahamas. 
The
FRIENDSHIP
cruise boasts some of the best international music acts on board not to be missed with an adventure and more memories created with your friends and create new ones along the way.
---
"There is a place where my friends and I go and we do fun things-the kind of fun things that build everlasting memories that I could never put a price on and I absolutely never could because these times are priceless and irreplaceable. At the end when I look back and reminisce about these times I had and the experiences that molded me and watered me enough to grow, I'll think about all the friends I've made along the way and how I am a part of their story and they are more than all my friends. They are all my family. That is FRIENDSHIP." States DESTRUCTO.
---
Star-spangled events are not the only things to look forward to on the ship. The Celebrity Equinox epitomizes premium cruising. Guests can indulge in various unique dining venues, thirteen bars, and lounges and enjoy the Canyon Ranch Spa Club and Fitness Centres. The new Gastrobar provides craft food along with comfort food. While Slush on the pool deck gives you exactly as the name suggests. Refreshing frozen cocktails. If you want a sense of land on sea and that earth-like feeling of grass between your feet, then the relaxing Lawn Club is the place to be. The exceptional guest services provided by the Celebrity Equinox promises the ultimate cruise experience. Head over to www.Friendship.com to get more information on how to receive tokens for pre-sale bookings.
---