Boulevardia is back for its fifth year, and boy it just keeps getting better! This two-day urban street fair takes place down in the Historic West Bottom's Stockyards District. The family-friendly festival features craft beer, food sampling, music, entertainment, shopping, and eco-friendly education — oh, and did I mention the midwest hospitality? Friendly, helpful faces everywhere you turn! You can purely show up for the music, the food & beer, or just for the KC community environment, either way, it's a win-win, especially with the fairly priced tickets and an all-ages entry.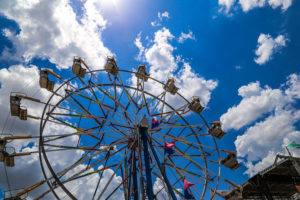 Vibe & Culture:
Boulevardia's purpose is to bring Kansas City's community together to cultivate local partnerships, from fresh local foods, designers, artists, vendors, and business relationships, while also encouraging education in the department of craft beer. "We are trying to push eco-urban thinking while promoting the midwest's value of green initiatives in our daily living by allowing festival goers to meet local companies that have the same earth-conscious values."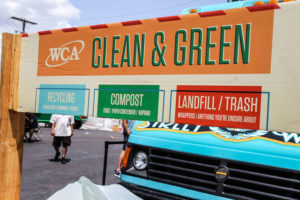 A healthy community is a happy community. If you didn't want to pay for admission into Boulevardia on Saturday, they offered a "Ride2Boulevardia" that allowed you to bicycle one of three routes for Children's Mercy Cancer Awareness (The Pint: 15 miles, The Case: 31 Miles, The Keg: 62 miles) that began and ended in the Stockyards District. Boulevardia's vibe fits that of the young hipsters and country folk as bohemian dressed festival goers were able to shop, eat, drink, and listen to music at one of the three stages, or get their groove on at the silent disco. A few carnival attractions were available to ride for the kiddos, while you could also hop on the Ferris wheel and check out the entire venue from the sky!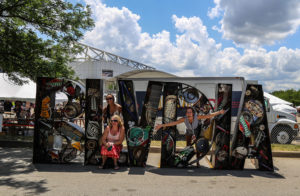 The weather cooperated all weekend, though it was pretty toasty and humid when the sun was out Saturday, as long as you applied your sun-block and stayed hydrated you were safe! The culture of Boulevardia is essentially the vibe of Kansas City as a whole – homey, earthy, eclectic, and authentic. If from the area, you were very likely to run into a ton of people you knew, which is another reason Boulevardia has had so much success here in this tight-knit city. 
Music & Entertainment:
Three stages were dispersed throughout the festival grounds (Guy's HomeGrown, Vineborough, or Boulevards Main). Friday started off with some amazing jams from The MGDs, Manchester Orchestra, Project H, Lee Fields, Eems, and MORE! The KC rap king, Tech N9ne, closed down Main Stage Friday night and filled Boulevardia full of screaming fans ready to rap along to every song they played.
Making a lot of this possible musically is the well-known alternative radio station 96.5 the Buzz. The Buzz has worked closely with Boulevardia over the last 5 years booking some of the amazing music talent you see at Boulevardia today.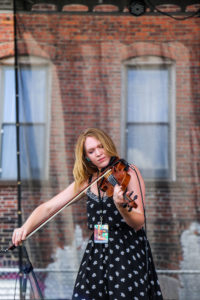 Alternative bands have come to love this station as they are well-known to break bands into a scene where they can better be heard and known.
One of those bands that performed this year, was Sir Sly, an indie rock band from California with the hit single "& run" whose popularity would not have soared if not for the Buzz playing their music for all of the KC & surrounding areas to hear. The crowd was enthused not only by their songs, but front man, Landon Jacobs, who took it upon himself to climb
up one of the rafters during the performance! Talk about hyping the crowd up!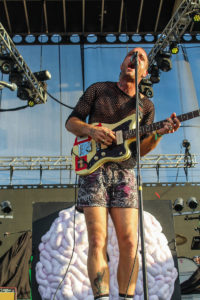 Saturday afternoon was filled a mixture of genre's from indie-rock, to reggae-rock, to groovy jazz, to folk-styled bands and artists, such as Momma's Boy, The Grisly Hand, Me Like Bee's, Guster, Streetlevel Uprising, Coal Town Reunion, Second Hand King, Nicolas St. James, Durand Jones & The Indications, Timbers, Kansas City Bear Fighters, The Sextet, The Phantastics & more. Closing out the festival was Bleachers, an indie pop band from New Jersey that is heavily influenced by the late 80's and early 90s. The band had everyone dancing and singing especially to their hit single "I wanna get better."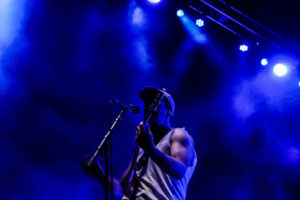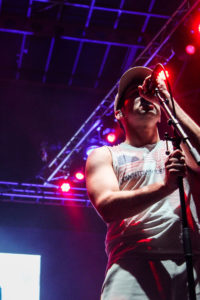 In between all the amazing bands playing on stage, performances by Quixotic Cirque Nouveau was there to mesmerize the crowd with their one of a kind circus-like performances. Quixotic is a Kansas City-based art collective that blends performance art with music, and technology with imagery that is sure to evoke emotion within you.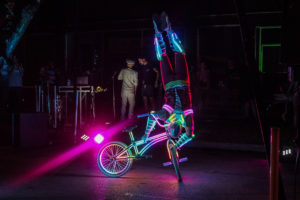 The variety of acts included contortion, an aerial silk display, as well as, unbelievable tricks done on a mini-bicycle, fire props and a cyr-wheel (aka a big circle that you can stand in). All of which was a sight to see!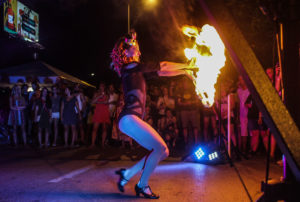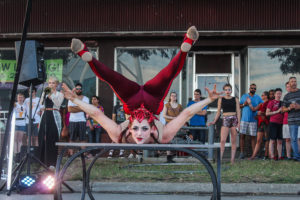 Attendees could also be immersed in the art installation of colorful pillars at the silent disco. This phenomenon arose as a way to continue the party after noise curfews as well as a way to minimize noise pollution as to not disturb local wildlife. The silent disco had local DJs bumping music that people would only be able to groove to if they grabbed a set of headphones. Dancers could switch between multiple channels on their headphones to find the music they liked best. This was definitely a fun (& silent) spin on how to enjoy music at a festival.

Grub & Booze:
It all starts with a good craft beer. Boulevard Brewing Company, of course, had their own Boulevard beer stands where their most popular beer options were available cold and on draft, but nonetheless, there was also 58 other breweries and eateries to ensure everyone can find something they enjoy.
To tie in the music with the beer, Tech N9ne released a special edition pineapple and coconut flavored wheat beer through Boulevard, Bou Lou, that ended up selling out at the festival.
A variety of KC's hot spots & local food trucks lined the walkways with delicious smells and temptations. From tacos to pizza, to the KC famous BBQ — there was always something delicious for everyone. A few that stood out to me were, Taste of Brazil, Mission Taco Company, Magnolias on the Move, Slap's BBQ, Minksys, Cheesy Street, Iggy's Greengo, Jerusalem Cafe, Rockstar Burgers, McGonigles Meat Wagon, and the list goes on and on.
Maker's Market:
Kansas City is known for its hustlers, self-employed citizens that work day in and day out to do what they LOVE.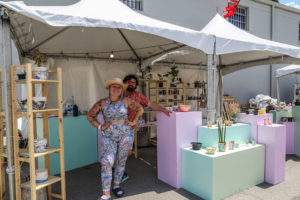 This little 'road' of local artists and stores was the cutest, craftiest and most inviting street to check out all of the local artwork, shops, and clothing that KC has to offer.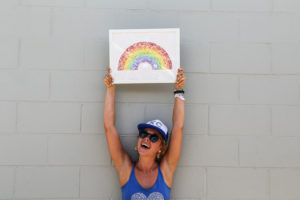 SO many vendors stood out to me with their products being home-made, eco-friendly and, of course beautiful. Carly Rae Studio, SOFT, The Jeweled Gypsy, Craft Boner, Pho-taj, Ramblin Rose Macrame, MeritMade, Witch Bitch Elixers, Moore Apparel and Goods, Collective EX, Sweet Destructor, Family Tree, Liv & Work, Whiskey & Bone, and Lily Dawson Designs were just a handful of the booths I found myself loving. To check out all of the unique vendors I have not mentioned, click HERE.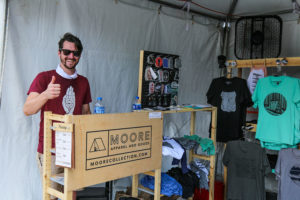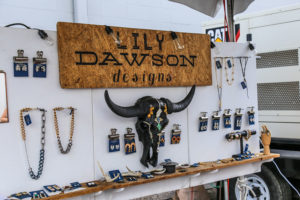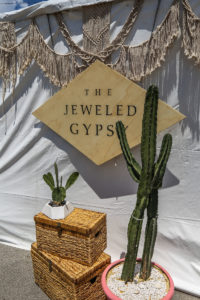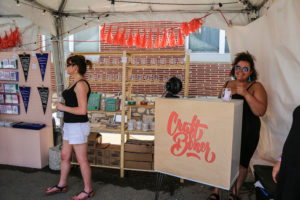 Boulevardia is a festival for everyone! It highlights the best of Kansas City and more!
We can't wait till next year!
Article Written by Ericka Loney & Samantha Jacob
Photography by Samantha Jacob Photography