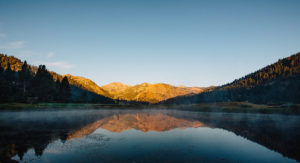 Wanderlust's mission is "to help you find your true north. True north is not a final destination: it's a path, a journey, a yearning to explore and connect to your life's purpose." We present this review after attending our third Wanderlust Festival, and from what we have seen and heard, it is very clear that Squaw Valley, North Lake Tahoe is the crown jewel of the franchise. "Wandering" with this festival will leave you feeling re-connected, repurposed, and recharged to tackle the stresses of work, and meet some amazing friends along the way.
Wanderlust is truly unique in comparison to music festivals and yoga retreats because Wanderlust allows you to fully customize your experience. This four-day festival not only offers a wide variety of yoga classes – vinyasa, yin, acro, kundalini (and more) – but it also offers music events, workshops, arts and crafts, organized hikes and runs, dinners and happy hours, and so much more. Whether you are looking for a connection, exercise, health, mindfulness, to party, or to have a different approach each day, Wanderlust has it all.
Customizing your yoga festival is user-friendly and done entirely through the Wanderlust App, where you can create your schedule, research class descriptions, and purchase add-on classes and events.
The Classes
You can change your schedule once or one hundred times. Classes, workshops, music events, hikes, and other special activities are offered all day and it is easy to switch up your schedule throughout the day using the Wanderlust App. We signed up for a few classes we thought would fill up as soon as we purchased tickets and then switched it up to attend specific classes or events.
We highly recommend looking through the schedule prior to arriving at the festival to get an idea of what classes are being offered. Also to keep in mind, some of the classes need your name or other information about you ahead of time. That being said, even where classes are listed as "FULL" on the schedule, after three Wanderlust festivals we have always found that the check-in staff will still let you in the class.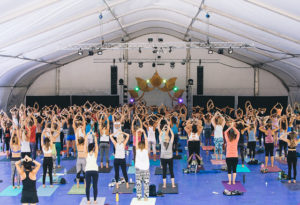 We attended the following classes during our Wanderlust experience:
Eoin Finn, Blissology, Melt My Shoulders, Bliss My Hips:
This is a must-do Wanderlust class. The class was held in the largest of the outdoor yoga tents and was positioned to have fantastic views of the beautiful mountains. This class stretched out all of our muscles and put us in an excellent state of mind. Eoin's teaching is all about good vibes, and he has a good sense of humor. Hands-down, this class was vinyasa-licious.
The Fixx and RAD Happy Ending:
Unlike Eoin's class, this class was indoors. We spent the first 45 minutes doing a fast-paced, sweaty yoga flow. We spent the second half of class relieving knots and tension in our arms, shoulders, and back using RAD roller balls and block. No joke – this was almost better than a deep tissue massage. The sound of the DJ's beats was echoed with oohs and ahhs of everyone around the room finding their own points of tension.
Briohny Smyth, Connect With Your Core
If you were wondering who wakes up early to attend the 8 am classes at Wanderlust. These ladies!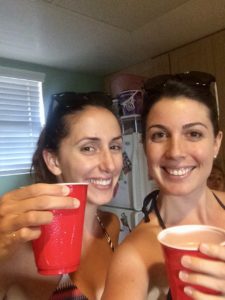 Briohny Smyth is one of our favorite Wanderlust yoga instructors and her 8 am Connect With Your Core class with DJ Jessie Blake did not disappoint. Briohny's class focused on breathing exercises and ab work. This class had high energy, bomb music, a yummy vinyasa flow, and partner acro yoga to end.
Shiva Rea & DJ Drez, Riding the Wave – Fluid Power:
This class was exactly like it sounds, and we were guided by the fluid sounds produced by DJ Drez as our bodies flowed in wave-like motion – this class was very much like a "yogi dance." Taking a class with yoga-celebrity Shiva Rea is a definite box-checker while at Wanderlust.
Peloton:
Because two yoga classes Saturday weren't enough, we finished with a 20-minute Peloton spin ride. If you haven't heard of Petolon, these are stationary exercise bikes with Tesla-looking flat screens to display stats and virtual spin classes. With a subscription, riders have access to live spin classes and can view the stats of other riders who are or have taken that same course (i.e. Soulcycle from your home). Overall, we loved this addition to Wanderlust and hope Peloton returns next year!
Caley Alyssa and DJ Sol Rising, Breath, Body, and Intuitive Powers:
This was yet another phenomenal vinyasa class. This class was different than Eoin and Briohny's classes in that Caley Alyssa taught poses based on Kundalini yoga and focused on harnessing your breath. We ended the class with a five-minute eye gaze with a stranger. Gazing into a stranger's eyes was out of my comfort zone but, after, I spoke to my partner and she was a very cool human. Wanderlust is all about meeting new people and sometimes in unexpected ways.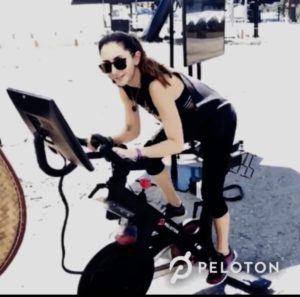 SUP & AI Real Yoga:
There are two types of classes in the schedule that are offered by a third party yoga company at a small additional fee. Stand Up Paddleboard (SUP) yoga is offered for $25 per class. A van will drive the SUP Yogis about 15 minutes down the road to a protected pond where the classes are held. The scenery is gorgeous and peaceful. The SUP instructors will guide you through (the perfect Insta-worthy?) flows, help you get that perfect Instagram photo, and then put you into a deep savasana while the water gently rocks you while laying on your board. Most yogis jumped in the water for a swim at the end of class! AIReal Yoga is offered for an additional $15. In this class, yogis learn how to use a soft fabric hammock for therapeutic aerial yoga postures.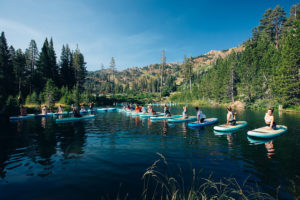 Quincy Young, Waterfalls and Granite Hike
Wanderlust also offers organized hikes throughout the festival. We recommend the hike through the Shirley Canyon trail that goes along a creek and stops at two waterfalls. The tour guide, Quincy, was so much fun because she shared her knowledge about many of the plants we saw along the way.
At the first waterfall, there was a family swimming in a picturesque watering hole less than a mile from the trailhead. The second waterfall, maybe another half mile further, had a bigger swimming spot. The water was perfectly crisp but not cold. Bring your bathing suit on this hike!
The Parties
Wanderlust, Squaw Valley has pool parties at High Camp, which has an elevation of 8,200 ft, with a full bar and jacuzzi every day. Nothing says Wanderlust like dancing and drinking in the pool and watching yogi's practicing acro on a rock overlooking the valley.
We scheduled classes Saturday morning specifically so we could attend the pool party all afternoon. Concerts and Silent Discos go off for those that are night owls. People are dressed in fun festival wear and dance the night away.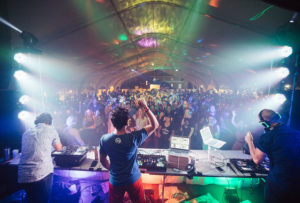 The Food
We ate SO MANY SAMPLES at the Wanderlust sponsor tents. You will not go hungry. A couple of our favorites were Hippeas, Bob's Red Mill oatmeal & protein shakes, RXBar, LifeAid, Flow water. Hi Ball energy drinks, Pacific Foods, Rebbl, Epic jerky, and Alter Eco chocolate. We loved munching on these snacks in between classes and checking out all of the retail vendors also present as this is definitely the place to get one of a kind and local yoga clothing and accessories.
Wanderlust also had a parking lot set up with food vendors open all day. We suggest going here for lunch since there are a ton of delicious options that are all healthy, reasonably priced, and could satisfy most any dietary restrictions.
Wanderlust offers a Farm to Table dinner with a prix fixe menu for approximately $125. Diners will ride the cable lift up to 8,200 ft elevation with stunning panoramic views of the valley and will enjoy locally sourced foods prepared by guest chefs.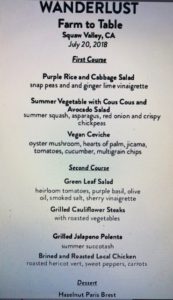 There are also a handful of restaurants in the Village if you want to sit down with a drink. Most of these restaurants close between 9-10pm. However, for the late night partiers, The Auld Dubliner is open until 2am.
Lodging 
We booked a one bedroom condo at the Village at Squaw Valley through a home-rental website. This was a perfect location since it was directly above all of the Wanderlust festival activities. Red Wolf Lodge, Squaw Valley Lodge, Resort at Squaw Creek, and PlumpJack Squaw Valley Inn were also within walking distance.
If you have a larger group, we recommend renting a nearby cabin. We did this a couple years ago and the option was very budget friendly and a ton of fun.
Wanderlust also offers a camping option for an additional fee. While we have not yet opted to leave the comfort of a warm bed and showers, sleeping under the stars in the mountains of Tahoe sounds like an experience in itself.
---
Photo's by Chris Eckert for Wanderlust Festival
Check out the other Wanderlust Events going on HERE!
---