Entering into its fourth year, KAABOO will hosting another successful event, but in a new destination. KAABOO has hit major cities including San Diego and now Grand Cayman in 2019. The Texas event will be a collaboration between KAABOOO and the Jerry Jones Family, the visionaries behind the legendary Dallas Cowboys.  The event will debut at AT&T Stadium in May 2019. Guests can look forward to five-star live entertainment, world-class music, comedy, art, delicious gourmet cuisine + craft libations and a Vegas-style day/night club with hosts. This upscale experience pairs well with Jones' vision for the Dallas Cowboys, which has cemented its status as the highest valued sports franchise in the world. Both brands together represent energy, reativity, and willingness to elevate traditional concepts. The Cowboys organization is known to create engaging experiences, providing new ways to connect with fans, making the KAABOO brand an ideal partnership.
AT&T Stadium
When the worlds of sports and music collide, the result is an unparalleled entertainment experience. KAABOO Texas will present the first multi-day nationally recognized music and lifestyle event partnered with a NFL ownership group. With a capacity of nearly 100,000, AT&T Stadium is recognized internationally as one of the most spectacular state-of-the-art sports venue in the world. This facility will provide the  quality and comfort characteristics of KAABOO's highly-amenitized festival offerings. The home of the Dallas Cowboys is an ideal venue, attracting a wide range of national and international attention. The stadium has already played host to Super Bowl XLV (February 2011), the NCAA Final Four in men's basketball (April 2014), the inaugural College Football Playoff Championship Game (January 2015), Academy of Country Music Awards (April 2015), WrestleMania (April 2016) and several others.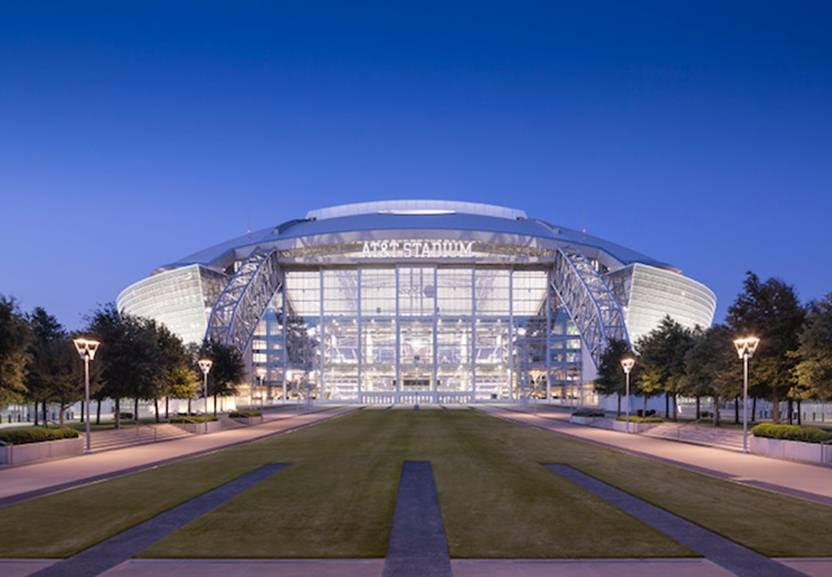 "The partnership between the Jones family, AT&T Stadium, and KAABOO promises an unforgettable entertainment experience for all guests," remarks KAABOO Chief Brand + Marketing Officer Jason Felts. "KAABOO Texas will be a multi-day experience with the celebratory energy of a high-stakes game and the curated music, art and lifestyle experience representative of KAABOO. The Cowboys pride themselves on being at the forefront of exciting industry change, making this partnership a compelling fit for both organizations."
"We are always looking for innovative partnerships that allow us to provide our market and a diverse demographic with a unique opportunity to engage with us. KAABOO Texas is a chance for people from all over the world, football fan or not, to experience AT&T Stadium through an incredible live entertainment event," says Stephen Jones, Chief Operating Officer of the Dallas Cowboys.
As the saying goes, everything is bigger in Texas. With that being said, KAABOO is no exception to that rule. Festival goers can expect a lineup with a rock-centered focus with chart-topping hit makers, bucket-list artists, and the familiar nod to local culture. KAABOO has made a name for itself not only as a music festival, but for an experience for all five-senses. In addition to the world-known artists, attendees will have the chance to look at contemporary art exhibits at Artwork; hilarious comedians at Humor Me; culinary and craft beverage offerings at Palate; and a full spectrum of indulgences for which KAABOO has become famous.
Together, the Jones family and KAABOO are shifting the live entertainment paradigm and creating a new festival set to revolutionize the fan experience. KAABOO Texas takes place May 3-5, 2019 with the full lineup announcement coming later this year.
__________________________________________________________________________________