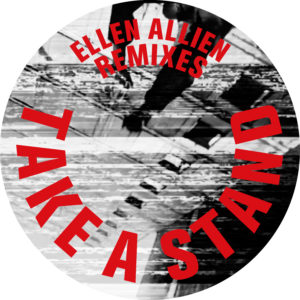 3 months following the release of "Take A Stand", Ellen Allien's defiant techno banger is now receiving a hefty re-work by four affluent producers. Kosobil, Cosmin TRG, K'Alexi Shelby & Jonas Kopp have each stepped up to the plate, accepting the honours to remix this powerful original.
While the original was released on NonPlus, the Take A Stand remix package finds its home on Ellen Allien's very own BPitch Records. As a track and as a political statement, "Take a Stand" is ambivalent, and these four artists do a commendable job of communicating this message in their own various languages.
"Take A Stand" – Kosobil Remix
Who better to set the tone than Kosobil? The young, Berghain resident's love for both euphoric rave music and industrial debauchery is showcased in his dark, twisted remix.
"Take A Stand" – Cosmin TRG Remix
Romania's Cosmin TRG is up next. Renowned for his unique approach to techno, Cosmin TRG drives "Take A Stand" in a completely new direction, harkening back to the days of classic acid techno. Hear for yourselves…
"Take A Stand" – K'Alexi Shelby Remix
Flip the record to find yourself absorbed by the jacking house rework of Chicago's Keith Alexander Shelby, better known as K'Alexi Shelby. Just shy of eight minutes, this hard-hitting, yet playful remix blends layers of percussion, looped vocals and a driving bassline to get the dance floor moving.
"Take A Stand" – Jonas Kopp Remix
Closing out the B-side, Argentinian Jonas Kopp delivers a hypnotic rework with his trademark precision. Kopp masterly captures the original's unrestrained power in this rendition.
---
Grab your copy of "Take A Stand" here.
Ellen Allien is on Facebook// Soundcloud