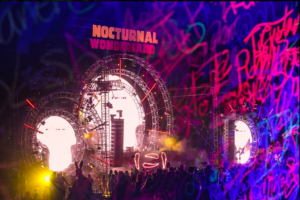 Insomniac's Nocturnal Wonderland, North America's longest running dance music festival, will return to Glen Helen Regional Park in San Bernardino, California on Saturday, September 14 and Sunday, September 15. The 24th edition of the iconic festival will immerse Headliners in a beautiful, forested landscape while experiencing a unique scene of music, art, and community spirit.
Nocturnal Wonderland
Two nights of entrancing sights and sounds offer visitors the experience of a lifetime paired with costumed performers wandering the grounds, elaborate stage production, epic art installations, carnival rides and unforgettable sets. Deep-rooted in early dance music culture, Nocturnal Wonderland will showcase its spirit and history across three brand-new stage designs, vibrant art, stunning production, whimsical performers, and spectacular surprises for everyone to explore.
Glen Helen Regional Park has been home to Nocturnal Wonderland since 2013. However, 2019 is a particularly special year in the history of this venue because it is the final year before the festival will move to a new home in 2020. As a result, 2019 Nocturnal Wonderland promises an unforgettable send-off during the special full-moon weekend, including an expanded camping landscape, two silent discos with music playing until the early morning hours, a camping pre-party on Friday, September 13, and the Parliament Art Car which will be making its West Coast debut during the celebratory weekend.
Attendees will also have the opportunity once again to sleep beneath the stars by joining the Nocturnal camping community. Surrounded by the astounding greenery and natural beauty of the property's vast lakes, the campground at Nocturnal Wonderland offers more than just a place to lay your head between shows. It's a welcoming community, a bustling hub of entertainment, and full of daily activities and amenities for all campers to enjoy. Headliners participating in the camping experience will also have access to the massive water park to enjoy during the warm afternoons, morning yoga sessions, and day and nighttime entertainment including the moonlit Nocturnal pre-party.
2019 Lineup
Across three brand-new stage designs from 3 p.m. to midnight each day, an impressive lineup of more than 50 dance music artists, including DJ Snake, Jauz, Malaa, Solardo, Zeds Dead, and Zomboy, will provide the end of summer soundtrack. The Wolves' Den, Labyrinth (hosted byDeadbeats and Bassrush), and Sunken Garden will host a myriad of genres for thousands of fans over two unforgettable nights.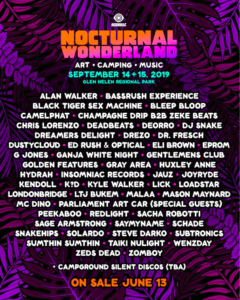 Tickets
Two-day GA Experience passes start at $119.95 plus fees for Nocturnal Wonderland and are on sale now here! Additional camping details and how to purchase car and tent camping packages will be available soon.
Stay Connected with Nocturnal Wonderland:
---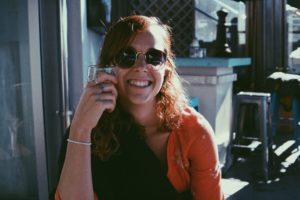 FestPop Staff Writer, Julia Osteen