Noisily Festival of Music & Arts returns once again in 2019. On July 11th – 15th, 2019 there will be plenty of exciting new evolutions and a world class lineup. Noisily will also have continued focus on wellness, education, inclusion, the environment, creativity and community. It will have the hopes of inspiring personal growth, connection and social responsibility through art, music and healing. Noisily will take place in the beautiful Coney Woods in Leicestershire.
Noisily Festival of Music & Arts
The July festival will be sound-tracked by first wave names from the worlds of dub, house, techno and drum & bass such as Extrawelt, Mad Professor, LTJ Bukem & MC Ruthless, Icicle, vertical, Captain Hook, S.P.Y. and more to come. In addition a full Mind Body Soul line up will launch at end of February featuring an expanded series of talks, panel discussions and a huge array of healing practices.
Festival-goers can expect a mind expanding and unforgettable surprise. Noisily Festival of Music & Arts is like nothing else. The 4 day festival is an alternative to mainstream festival culture. It is a place to soothe your soul, interact with like-minded people on a deeper level and celebrate music, psychedelic art and culture.
Arenas are intimate affairs, with boutique design and bijou vibes. The whole forest site is brought to life with enchanting production, performers, arts & crafts, wooden pyramids, places nestled away to chill, fire breathers and so much more.
Noisily Festival can be described as an adult wonderland that feels miles away from the everyday, and is founded on five core pillars.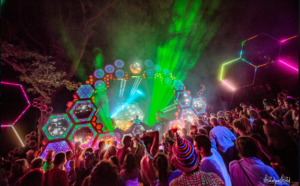 Five Core Pillars
Inclusion: Diversity is inviting people to the party, inclusion is getting them on the dance floor – we strive to make everyone feel welcome at Noisily.
The Environment: Noisily commits to protect and conserve the local environment setting an example in order to inspire our community to live consciously year round.
Wellness and Education: We are dedicated to acting as a leading light in the UK's festival wellness scene; an alternative learning center rooted in holistic and spiritual practices.
Community: We are more than just 4000 people in the woods for 4 days, we are a family. We will support and guide our community to a better future.
Creativity: Noisily is a platform for music, arts, psychedelic culture and creative weirdness.
Lineup
Musically, the full line-up will come early this year. Although, there is already a fine mix of upcoming stars and established greats from the worlds of dub, house, techno and drum & bass.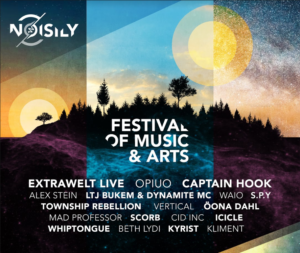 There is plenty more to come from Noisily between now and the first day of the festival. Already it is shaping up to be the art and music lover's choice for 2019. Tickets are selling fast! Purchase your tickets today here!
All in all, for more information about Noisily Festival, follow its' socials:
Facebook. SoundCloud. Twitter. Instagram. YouTube.
_______________________________________________________________________________________________________________