---
Nothing More and the Cranberries-channeling rockers Bad Wolves took a break from supporting Five Finger Death Punch and Breaking Benjamin North American summer trek to perform in Reno's rock venue CARGO inside the Whitney Peak Hotel.
Ironically, Bad Wolves became the first band to achieve a first No. 1 on Mainstream Rock Songs for their rendition of The Cranberries' "Zombie" since Nothing More, whose "Go to War" ruled for a week in December 2017.
But what separates Nothing More to the Wolves are three Grammy nominations. Back in 2017 Nothing More was the only band to score Grammy nominations in the fields of Best Rock Performance, Best Rock Song, and Best Rock Album — something more storied bands like Foo Fighters and Metallica couldn't even accomplish. While much of the Grammy-nominated The Stories We Tell Ourselves album leans on the heavier side, "Just Say When" has received rave reviews as a change of pace on the disc and one of the more vulnerable tracks the band has delivered in their career.
Monday's show was Nothing More's first headline show in 2o18 and had an amazing set. They performed all multiple charting singles, including "This is the Time (Ballast)", which hit number 1 on the Mediabase Active Rock chart and number 2 on the Billboard Mainstream Rock chart in 2014, and "Mr. MTV", "Jenny", and "Here's to the Heartache" all charting in the top 15 of the latter chart.
Nothing More's lyrical content has been inspired by a wide variety of factors. Hawkin's personal life has been a large influence; the single "Jenny" is a song that was inspired by his aunt who struggles with schizophrenia and his sister Jenna who struggles with bipolar disorder. The band used the song, and respective music video, to help raise awareness and money for mental illness.
---
---
The band is known for its energetic performances. They set up two separate drum sets, one for the band's primary drummer, and one for Hawkins to join in on intermittently, who had previously been a drummer himself in the early years of the band. The performances also include a number of crazy contraptions, including "The Scorpion Tail" in 2016, an animated structure created out of scrap metal and salvaged auto parts, weighing 400 pounds and measuring 14 feet all. Lead singer Hawkins rides the structure, while also using it to create digital electronic effects for the songs as well. Its design is based on the "Drumtron"/"Bassinator" contraption the band used in RENO, which also allowed the band to perform 3 person bass solos by Hawkins, Vollelunga, and Oliver. Bad Ass!!!
---
---
Last year The Guardian said it best about Nothing More…"…while the post-screamo landscape is awash with frontmen pinning broken hearts to their sleeve tattoos, there's a sophistication to Nothing More's angst that raises them above the tumult-tossed pit..."
---
Check out Nothing More at these music festivals or a city near you
---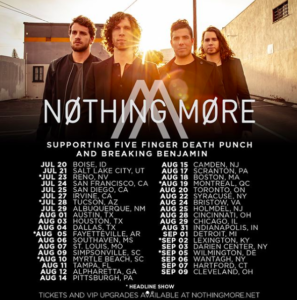 ---