The performance schedule has been announced for the 7th annual Monster Energy Aftershock festival, returning to Discovery Park near downtown Sacramento, CA, Saturday, October 13 and Sunday, October 14. Band performance times, festival experiences, the after-party, and additional food and beverage details have been released.
California's biggest rock festival will feature performances by System Of A Down (celebrating the 20th anniversary of their landmark self-titled first album), Deftones (celebrating their 30th anniversary and headlining in their hometown for the first time in seven years), Alice In Chains, Incubus, Godsmack, Shinedown, 311, Slash featuring Myles Kennedy And The Conspirators, At The Drive-In, Seether and many more.
All General Admission weekend pass tickets, VIP tickets, and hotel packages for Monster Energy Aftershock are sold out. However, a limited number of single-day general admission tickets for Saturday, October 13 are still available at www.AftershockFestival.com.
---
The Monster Energy Aftershock performance schedule is as follows: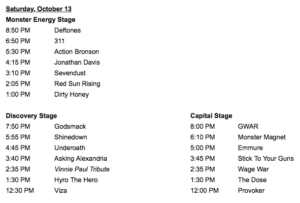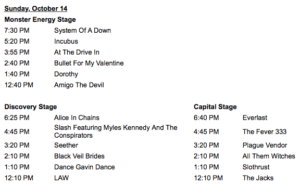 ---
If two full days of unforgettable sets from today's biggest rock and metal artists isn't enough, Monster Energy Aftershock is also inviting ticketed festivalgoers to an exclusive after-party at Goldfield Trading Post:
---
---
With Amigo The Devil and BlackCraft Cult
Sunday, October 14
1630 J Street, Sacramento
Anyone with a weekend pass or single-day Saturday or Sunday ticket will be allowed free entry on a first come, first served basis.
---
---
Onsite festival experiences at Monster Energy Aftershock will include:
Monster Energy Experience: Fueling the festival with energy and providing interactive artist experiences
f.y.e Fan Experience: The only place for your favorite bands' music will host the ultimate fan & artist interactive experiences
Coors Light: Refreshing festival attendees (21+) with the crisp taste of the Rockies
The Music Experience: An interactive exhibit featuring guitars, basses, amps, drums and more, not to mention artist meet & greets and contests
The Student Experience: Offering a unique opportunity for youth engaged in music and art-related academic programs with unprecedented access and an inspirational behind-the-scenes peek of the festival
Fxck Cancer/Dyin 2 Live: Fighting cancer by raising awareness and educating people about early cancer detection. The Dyin 2 Live wish-granting program works to enrich the lives of those fighting cancer by offering them experiences that will bring joy, hope, inspiration, and courage into their lives.
Kolas: Representing a lifestyle and culture for anyone ready to take their passion for cannabis to the next level. Stop by the Kolas booth for some fun swag, informed industry information, promotions from leading brands, and some surprises you won't want to miss out on.
Zippo: Offering a full stock of Zippo lighters, including limited-edition Aftershock Festival designs. Visit Zippo early each day for a chance to get access to some of the best "seats" in the house, the Zippo Hot Seat!
---
The official Monster Energy Aftershock mobile app (Aftershock Festival) is now available for download. Festivalgoers can use the app to build their own schedule, read up on the artists and personalities appearing at the festival, and get the latest information and updates through push notifications. Download it now through the Google Play and Apple stores.
---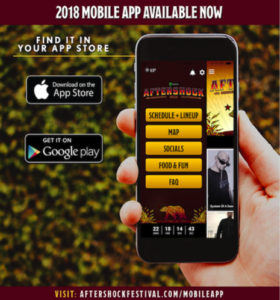 ---
As previously mentioned, along with the many performances by top rock artists, Monster Energy Aftershock will also highlight a variety of onsite food and beverage experiences. Beverages: An assortment of beverages will be available to Festival attendees 21 and over at one of the many bar locations on the festival grounds. Specialty experiences include Caduceus Cellars & Merkin Vineyards Wine Garden (owned by Maynard James Keenan, Arizona resident and co-founder of international recording acts Tool, A Perfect Circle and Puscifer) and the Belching Beaver Bar (featuring drafts from the Vista, California brewer, including the popular Phantom Bride IPA, a collaboration with Deftones). Coors Light and a range of other beverage options will be available for purchase throughout the venue.