Electric Zoo: The Big 10 returns to Randall's Island Park this year for the most epic edition yet. New York's electronic music festival is on its tenth turn-around and will occur in New York City on August 31, September 1 & 2. Event organizers Made Event have announced even more hard-hitting acts to join Ezoo's already star-studded lineup.
Alesso and Tiesto will be joining the festival's previously announced headliners Kaskade, Marshmello, Martin Garrix, and Virtual Self.
Tickets are flying fast. Purchase your tickets now before they sell out!
Listen to Electric Zoo: The Big 10's Spotify playlist here.
Phase 2 Line-up
In addition to two new headliners, there is also a numerous amount of mind-blowing acts that will get you ready for Electric Zoo: The Big 10. Electric Zoo went live on Facebook for the second line-up announcement.
Artists include in the 2nd phase lineup include: Alexander Lewis, Bonnie X Clyde, Boogie T, Brohug, Chris Liebing, Chris Lorenzo, Chuurch, Codeko, Crankdat, Cray, Destructo, Deux, Devault, Dnmo, Dubfire, G Jones, Gg Magree, Habstrakt, Infuze, Jauz, Kayzo, Kuuro, Lestat, Lost Frequencies, Loud Luxury, Luzcid, Medasin, Noizu, Parker, Party Favor, Petey Clicks, Redlight, Space Jesus. Spencer Brown, Squnto, Stööki Sound, Uniiqu3, Whipped Cream and Yehme2, with more talent to be announced.
Current Line-up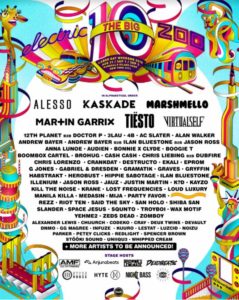 Electric Zoo: The Big 10
The 10th edition of Electric Zoo has everything from titanic headliners to underground favorites and scene champions. It encompasses a wide range of styles from deep house and techno to trance, trap and future bass. Electric Zoo: The Big 10 will be a blow-out of epic proportions. The world's finest DJs and most mind-melting production will be featured in the heart of the city that never sleeps.
This music festival has truly furthered its expectations since its start in 2009. All those moons ago, who would have thought that the weekender that roared to life on NYC's Randall's Island in 2009 would become a household name in the global dance festival scene? The 2009 line-up featured fresh-faced deadmau5, a pre-cake Aoki, and the late great Frankie Knuckles.
Since then, Electric Zoo has been welcomed across the globe with brand touching down and bringing in fans from far off places such as Shanghai, Tokyo, Sao Paulo, and Mexico City.
From its earliest expeditions through the chaotic urban jungle, to scaling the feral lands of the Wild Island, and getting our minds blown by the gritty 6th Boro,Electric Zoo: The Big 10 celebrates what a ride it's been.
FestPop at Electric Zoo: The 6th Boro
FestPop got the chance to attend Electric Zoo: the 6th Boro in 2017 and was blown-away with everything. From the lineup itself to the stage design and light production, the 6th Boro was truly a wild addition to New York's 5 boroughs. Festival-goers all around were enjoying the vibes of festival, especially with Jauz hosting his own Off The Deep End stage. We can't wait to return to Electric Zoo in just a few short months!
For more information on Electric Zoo: The Big 10, follow its' socials:
Facebook. Twitter. Instagram. YouTube. Soundcloud. Spotify. Google+.
_______________________________________________________________________________________________