Powabunga – the inaugural music, mountain, and art festival in Vail, Colorado on March 22-23, 2019 – announced its daily artist lineup and the official Powabunga afterparties.
Lineup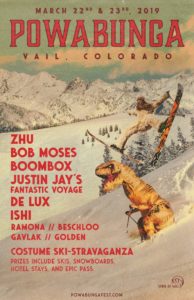 Headlining the music and mountains festival on Friday, March 22 is ZHU, with support from Justin Jay's Fantastic Voyage and De Lux.  Bob Moses will heat up Saturday night with their electrifying live set, with support from Boombox and the incredibly intriguing ISHI. Powabunga's concert performances at Ford Park kick off at 4 PM each afternoon and continue until 10 PM, followed by the official afterparty at Vail Ale House from 10 PM – 2 AM each night. Friday night's afterparty lineup is headlined by Justin Jay (Dirtybird), alongside Beschloo, Golden, Dirty Harry, and Stennor, while Saturday night welcomes a Bob Moses club set, with Ishi, Ramona, Gavlak, and Paul Pietrini all taking turns behind the decks.
Festival Experience
Powabunga is an immersive experience spanning the festival stage, the slopes of world-class Vail Mountain, and parts in between, highlighting Colorado's uniquely vibrant mountain culture and the stunning beauty of the Vail Valley. With two nights of music at Ford Park, large scale pop-up art installations, exclusive après ski and post show after-parties, and an over-the-top Costume Party, Powabunga promises a fun-filled weekend celebrating the joyful spirit and diverse offerings of the Rocky Mountains.
Schedule

Costume Party
The Powabunga costume party will take place in Vail Village at Fall Line from 11AM to 3PM on Saturday, March 23. Fall Line is in the heart of Vail Village, and is the perfect spot to get your Saturday started. This celebration is focused on bright self expression, and judges will score on categories that include Best Dressed, Best Duo, Best Denim, and Best Onesie. There will be epic prizes that include skis, a snowboard, and more from our sponsors. Music provided by Powabunga resident Beschloo.
Tickets
General Admission:
Friday GA tickets from $69.00
Saturday GA tickets from $59.00
2-Day GA Passes from $125.00
VIP Admission:
Friday VIP from $165.00
Saturday VIP from $155.00
2-Day VIP Passes from $299.00
After Party Admission:
Official After Party // Friday // Justin Jay and Friends from $25
Official After Party // Saturday // Bob Moses and Friends from $30
VIP Weekend passes offer access to preferred viewing areas and VIP tent hosting exclusive bar and food, upgraded bathrooms, and sponsor schwag, after-party pre-sale options, and more—  available while supplies last.
All tickets are on sale now here.
Lodging
The DoubleTree
Located next door to the official after party venue, making it the obvious choice for the late night warrior! It features a heated pool, 25 person hot tub, killer brunch onsite, and a swanky bar, and there is a little surprise planned for some Powabunga action under that roof. They will be running 2 shuttle all day to get you to the slopes, both villages, and the closest possible drop-off to our main event at Ford Park. Deep discounts on a limited block of rooms are being offered. Reservations can be made here.
The Evergreen Lodge
Offering the ideal combination of a walk everywhere location, warm and friendly service and an unbeatable value. Special Powabunga discounts are being offered and are available here or when you use the promo code "Powabunga" when booking.
Transportation
Powabunga is working with public transportation to offer additional shuttle service to select locations in Edwards, CO and Avon, CO, providing a safe and reliable ride option for fans staying down valley from Vail. More information on shuttle service can be found here.
For more information on Powabunga, visit:
#Powabungafest
_______________________________________________________________________________________________________________
FestPop Staff Writer, Julian Faranda