---
Spring is in the air as Shakti Fest returns to Joshua Tree, CA for its eighth season. Taking place this year on Mother's Day weekend (May 10 – 14), this premier conscious festival promises an uplifting experience like no other. Shakti Fest will bring together some of the best Kirtan musicians, yoga teachers, and workshop leaders in the world for the first truly heart-centered festival of the year. This one-of-a-kind springtime celebration will offer attendees the chance to immerse themselves in wisdom workshops, sound baths, and a tranquil healing sanctuary.
---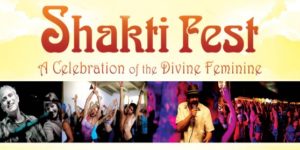 In Eastern philosophy, the Divine Feminine is described as the 'dynamic force which moves the universe.' Shakti Fest strives to awaken and honor this spirit which dwells in all of us. Through the devotional paths of yoga, sacred music, and meditation, this special gathering provides a unique opportunity to unify and deepen the spiritual community.
"When we started Shakti Fest as our spring celebration eight years ago, we had no idea it would become such a beloved event," noted Sridhar Silberfein, founder of Bhakti Fest. "It's perfect divine timing that we are able to honor the spirit of the universal feminine to align with Mother's Day each year."
---
This year's edition of Shakti Fest aims to continue the tradition. The music lineup for 2018 will inspire attendees to move, sing, and raise their vibrations. The sacred music featured will place special emphasis on Kirtan, a centuries-old practice which is believed to connect human beings to themselves, the universe, and spirit. The selection of artists includes some of the biggest names on the conscious music scene: Jai Uttal, Donna De Lory, Larissa Stowe, Govind Das & Radha, MC Yogi, Girish, Jaya Lakshmi, Prajna Vieira & the Mukti Kirtan Ensemble, Gina Sala, Vaiyasaki Das, David Newman, Fannah Fi Allah, and many more! You can find the entire music lineup available on their website, here.
---
Yoga at Shakti Fest
Springtime in California might be the best setting in which to practice yoga outdoors, and Shakti Fest does not disappoint in this area. The event will assemble some world-class yoga instructors, offering over 45 classes in three separate halls. The eclectic mix of styles ensures everyone will find something that fits their tastes. Teachers on the bill include; Shiva Rea, Mark Whitwell, Mas Vidal, Kia Miller, Georgina Meister, Cheryl Slader, Leeza Villagomez, Carmen Curtis, Hemalayaa Behl, Oleg Flow, Jennica Mills, Allison Prince and Katie Allen, Lisa Gniady, and Kristin Olson, among others. Also, noted yoga leaders Saul David Raye and Shiva Rea will lead special pre and post event intensives on May 10 and 14. Click here to view the full yoga lineup.
---
The Workshops
Shakti Fest will also provide an abundance of different workshops. The topics covered will range from health and wellness to personal growth and consciousness, including such areas as spiritual nutrition, Ayurveda, Vedic astrology, tantric energy, Sanskrit, breathwork, women's sexuality, conscious relationships, hoop dance, and bhakti art. Internationally recognized speakers will be featured at the event as well, boasting such names as Michael Brian Baker, Mirabai Devi, Renee Baribeau, Dawn Cartwright, Zoë Kors, Jeffrey Armstrong and Dharma Devi. You can find full workshop details here.
Another unique component of Shakti Fest is the "Sound Healing Experience." Attendees will be able to lose themselves in the incredible healing energy of sound baths. Some notable practitioners of this unique sonic meditation include Eric Sedorovitz, Gabriel Logan Braun, Lynda Arnold, Shane Thunder, David West & Enrique Pedrosa, Michelle Berc, and more. For more info on the sound healing offerings, click here.
---
Joshua Tree Retreat Center
Shakti Fest will take place in the high desert of California at the renowned Joshua Tree Desert Retreat Center. This secluded venue is the oldest and largest retreat center in the country, just two hours East of L.A. It is the perfect setting for tranquil reflection and deep spiritual renewal. There are retreat center spaces available, as well as glamping and RV parking, all on site. The more adventurous attendees may also choose to camp out underneath the stars. For those who prefer a more luxurious stay, several hotels are available within a few miles of the center.
Shakti Fest might also have some of the best vegetarian food of any festival event. It will be available at the Shakti Fest Eco Artisan Village along with yoga gear and clothing, art, jewelry, and unique collectibles. Other amenities also include a free swimming pool and "Conscious Kid Land," for families attending with children. More lodging information is available here, as well as travel info here.
---
Grab your tickets today!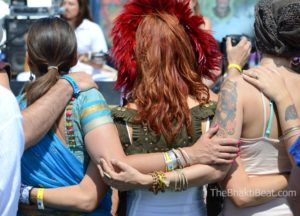 Early bird festivals passes for Shakti Fest 2018 are now on sale. So don't wait, grab your tickets now! Discounts are offered to veterans, military, seniors, local residents, and students.
Shakti Fest is part of a series of conscious, drug and alcohol-free events presented by Bhakti Fest. Their mission is to embrace ancient and modern sacred wisdom in a variety of ways. The organizers pride themselves on running a green event, offering free water and encouraging recycling. They are also part of the Center for Spiritual Studies, which is a nonprofit organization that supports many different charities around the world. Each year, all proceeds generated after covering costs go to select causes to help those who are less fortunate.
---