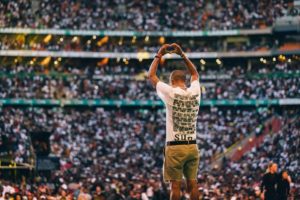 "I made a promise to God that if I was able to see the world, I would bring the best of what I saw back to Virginia Beach." – Pharrell Williams
Pharrell William's is bringing the best of the best to his home Virginia Beach, VA on April 26-28 for his first ever curated 3-day music festival Something In The Water. The festival was announced at the beginning of the month and promises to bring you the best experience with A-list acts. Tickets officially went on sale March 8 and have already sold out VIP. Few GA tickets remain but, are expected to sell out by the end of the month.
It's time to dissect this lineup for you! Over the course of three days the one and only stage will feature Grammy winners, major names in hip hop, and a few surprises. We have yet to know who the closers will be we can assume the headliners are Dave Matthews Band, Lil Uzi Vert, and Migos on Friday 4/26; Diplo Maggie Rogers, and Pharrell & Friends on Saturday 4/27, and Janelle Monae, Masego, and Radiant Children on Sunday 4/28 based on the current "by day" information per the website. A performance schedule has yet to be announced, so things may change.
2 hours ago some MAJOR updates were made to the line-up. Below is the new list with additional big names added.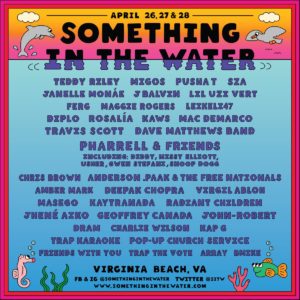 Let's first talk about the Pharrell & Friends situation. He is bringing some BIG name friends that should be reason enough to attend this festival. Pharrell will be joined on stage by Diddy, Missy Elliot, Usher, Gwen Stefani, and Snoop Dogg. Another addition to this festival is Chris Brown whom will be taking the slot once filled by Jaden Smith. People are hyped about this lineup and cannot wait to be partying beach side.
A large portion of this festival is dedicated to art and partnerships. Pharrell has brought in with Friends With You for special art installation, Adidas, and Trap Karaoke for all attendees to participate in. Stay tuned for more updates about the inaugural festival. Purchase your tickets HERE today!
---
---