Heavy Fusion Rockers SUMO CYCO kick off their Kings & Queens Tour starting next week in Dallas, Texas. SUMO CYCO's potent fusion of hard rock guitar riffs with in your face blast beats, dance hall rhythms, and punk rock attitude have garnered them unwavering attention and hordes of fans since their formation in 2011. Joining the band on the road this spring will be headliners Butcher Babies and Nonpoint with featuring support from Cane Hill.
Leading into their upcoming 2018 tour, SUMO CYCO released new single Undefeated to start 2018 with a high energy, heavy rock banger.
Kings & Queens Tour
SUMO CYCO's powerhouse frontwoman Skye "Sever" Sweetnam says: "We are headed out on our longest tour of the USA to date and couldn't be more excited! It's the tour our fans have been relentlessly asking us to do. We are absolutely thrilled to join our friends in Butcher Babies and Nonpoint who we've toured with before overseas, and with Cane Hill on the bill as well, this line up is undeniable. See you there!"
The tour begins on April 25th in Dallas, Texas and will be visiting cities all over the United States. The tour ends in Mesa, Arizona on June 15. View the current tour dates and cities below.
Purchase tickets here.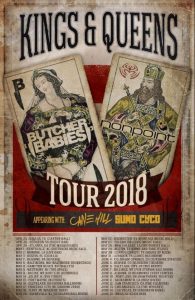 SUMO CYCO
SUMO CYCO puts on a live performance that is impossible to be ignored. The undeniable energy and attitude is extended through each venue they perform at. The band has completed 6 trips to Europe in three years, growing their fan base each trip. Fans have seen SUMO CYCO at multiple festivals including Warped Tour, Sound of Music, WTFest, Planet Rockstock, Winter Rocks, Canadian Music Week, NXNE and more.
The Hamilton, Ontario four-piece has proven they are nothing but uniquely authentic. They have released two full-length albums, Lost in Cyco City and OPUS MAR. SUMO CYCO has gained high traction by self-directing and producing grindhouse-esque movie videos. The female-fronted band has embraced their true calling of heavy rock with an electrifying twist.
All in all, for more information on SUMO CYCO, follow their socials:
Facebook. Instagram. YouTube. Twitter.
_______________________________________________________________________________________________________________________