---
Last night at a local live hotspot, Sacramento's Harlows hosted the Tearaways, a rock band from Santa Barbara, California most known for mixing Beatlesque music with a touch of Beach Boys surf music. We also heard some influences from Oasis and The Rembrandts (With their kick-ass harmonies. The hit TV show FRIENDS theme song "I'll Be There for You" comes to mind). Speaking of theme songs… The Tearaways' song "Rodney's Getting Sirius"  is used by Rodney Bingenheimer as the theme song for his world-famous show Rodney on the Rock.
John "Fin" Finseth, Greg Brallier, David Hekhouse, John Ferriter and Clem Burke comprise the quintet. Yes! keeping the rhythm and beat in check is Rock and Roll Hall of Fame inductee Clem Burke, who is also listed in Rollingstone's top 100 greatest drummers. 
The band's humble beginnings started in 1981 and now decades later the Tearaways are still tearing it up, having released two albums and a string of singles in the past five years. The Tearaways' classic and upbeat tunes had the audience of both young and seasoned singing Bash! and trying to name that tune!
The Tearaways have made 12 appearances at International Beatleweek Festival, hosted by The Cavern Club. Famed owner The Cavern Club Alan Sytner is credited with helping launch The Beatles at The Cavern Club who performed over 290 times at the club.
---
---
FESTPOP INTERVIEW
---
TOUR DATES
June 24th 9 PM
Troubadour 
9081 N Santa Monica Blvd
West Hollywood, CA 90069
July 31st 9:30 PM
IPO LA – Molly Malone's 
Los Angeles, CA
---
The Tearaways Are Huge in the UK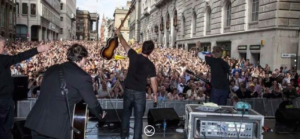 ---
FOLLOW THE TEARAWAYS
OFFICIAL | FACEBOOK | TWITTER | YOUTUBE | SPOTIFY
---