After lots of debate, the city of Miami has voted to allow Ultra Music Festival to return to its original home at Bayfront Park. This comes as a sigh of relief because for awhile it was unclear where the festival would be held in 2020. Guests should expect a few changes next year since Ultra is making huge strides in sustainability after last years efforts were a success. When the 'Mission: Home' sustainability campaign launched earlier this year, it reached over 2.7 million fans across social media platforms before Ultra's gates had even opened. Now, the festival is reaffirming its commitment to its far-reaching environmental efforts.
The sustainability plan actioned unprecedented shifts in internal operations, while engaging vendors, crew, employees and attendees in working together to reduce environmental impact.
Now that the music has stopped and the stages are gone, Ultra has received an "A" on an unexpected report card compiled by local environmental organizations. "Ultra Music Festival sets the bar in festival greening" reads the report card headline on volunteercleanup.org. The 2019 sustainability initiatives included prohibiting beach access, increased water refill stations, a ban on polystyrene (Styrofoam), plastic straws and balloons, as well as the implementation of a "Leave No Trace" policy, and a recycling and composting program.
After these initiatives had been established, Ultra went a step further, creating an internal Sustainability department and engaging a global environmental consulting firm to assist in creating its plan for protecting sensitive areas and wildlife. Ultra later banned confetti and streamers, as well as single-use plastic cups, bags, cutlery and food packaging. Collectively, these initiatives avoided the use of over 526,000 single-use plastic items, 100% of recycling loads were accepted by the local facility and 31% of the waste created during the event was diverted from landfill. In total, 60,360 pounds of waste were diverted through recycling and composting efforts, as detailed on the above infographic.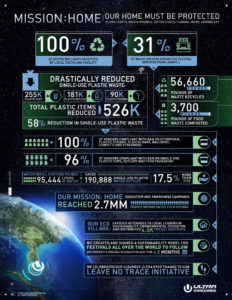 Ultra certainly accomplished this year's mission, which came to life in only 133 days after the 2019 venue announcement. Ultra's hope was that as attendees returned home to more than 105 countries around the world, they remembered what they learned at the event. Now, the festival's commitment to continuing these efforts at future events presents an even greater opportunity to continue impacting their young global following, influencing a movement towards a sustainable future.
---